Some view the problems faced by workers with job stress as simply burnout. According to Pines and Arnson (1988, 1989) burnout is "a state of physical, emotional, and mental exhaustion caused by long term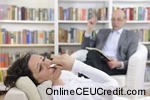 involvement in emotionally demanding situations." A 1993 literature search of the Psychological Abstracts listed over 1,100 articles and over 100 books since the term was coined by Freudenberger (1975) and carefully explicated by Maslach (1976). The most widely used measure of burnout is the Maslach Burnout Inventory (MBI) developed by Maslach and Jackson (1981). It measures three aspects: emotional exhaustion (e.g., "I feel emotionally drained from my work."); depersonalization (e.g., "I worry that the job is hardening me emotionally."); and reduced personal accomplishment (e.g., "I feel I'm not positively influencing other people's lives in my work."). More recently, Pines and Arnson (1988) developed the Burnout Measure (BM) which measures physical exhaustion (e.g., feeling tired or rundown), emotional exhaustion (e.g., feeling depressed, hopeless), and mental exhaustion (e.g., feeling disillusionment, resentment toward people). Emotional exhaustion appears to be the key factor in common between the two measures of burnout. Burnout has been defined as a collection of symptoms associated with emotional exhaustion:
(a) burnout is a process (rather than a fixed condition) that begins gradually and becomes progressively
worse (Cherniss, 1980; Maslach, 1976, 1982); (b) the process includes (1) gradual exposure to job strain
(Courage & William, 1986), (2) erosion of idealism (Freudenberger, 1986; Pines, Aronson & Kafry, 1981),
and (3) a void of achievement (Pines & Maslach, 1980); and (c) accumulation of intensive contact with
clients (Maslach & Jackson, 1981).

In a comprehensive review of the empirical research focusing on the symptoms of burnout, Kahill (1988) identified five categories: (a) physical symptoms (fatigue and physical depletion/ exhaustion; sleep difficulties; specific somatic problems such as headaches, gastro-intestinal disturbances, colds, flu); (b) emotional symptoms (e.g., irritability, anxiety, depression, guilt, sense of helplessness); (c) behavioral symptoms (e.g., aggression, callousness, pessimism, defensiveness, cynicism, substance abuse); (d) work-related symptoms (e.g., quitting the job, poor work performance, absenteeism, tardiness, misuse of work breaks, thefts); and (e) interpersonal symptoms (e.g., perfunctory communication with, inability to concentrate/focus on, withdrawal from clients/co-workers, and then dehumanize, intellectualize clients.)

In addition to depersonalization, burnout has been associated with a reduced sense of personal accomplishment and discouragement as an employee (cf. Maslach & Jackson, 1981). From a review of the research literature, it appears that the most salient factors associated with the symptoms of burnout include client problems: chronicity, acuity, and complexity that is perceived to be beyond the capacity of the service provider (Freudenberger, 1974, 1975; Maslach, 1976, 1982; Maslach & Jackson, 1981). Moreover, Karger (1981) and Barr (1984) note that service providers are caught in a struggle between promoting the wellbeing of their clients while, at the same time, struggling with policies and structures in the human service delivery system that tend to stifle empowerment and wellbeing.

Often child protection workers, for example, are forced to handle several dozen cases simultaneously, follow policies and procedures that monitor and protect the child, while at the same time dealing with extremely hostile parents. The turnover rate among these workers is very high, with the assumption that it is due to the heavy case load, not the nature of the work and its emotional toll.

In contrast to burnout, which emerges gradually and is a result of emotional exhaustion, STS can emerge suddenly and without much warning. In addition to a faster onset of symptoms, Figley (1995) notes that STS includes a sense of helplessness and confusion; a sense of isolation from supporters; and the symptoms are often disconnected from real causes. Yet, STS has a faster rate of recovery from symptoms. The Compassion Fatigue Self-Test for Psychotherapists was designed to help therapists differentiate between burnout and STS and will be discussed later. This measure is found in Table 1 and is discussed elsewhere in some detail (Figley, 1995; Figley & Stamm, in press).
The article above contains foundational information. Articles below contain optional updates.

=================================

Personal Reflection Exercise #8
The preceding section contained information about burnout and secondary stress. Write three case study examples regarding how you might use the content of this section in your practice.
Online Continuing Education QUESTION 15
In Kahill's empirical research what are the interpersonal symptoms of burnout? Record the letter of the correct answer the .