I am a person, also a social worker, who has been living with AIDS since 1982. Although I do not have AIDS myself, I was diagnosed as HIV positive in 1988 and the disease and all of the personal and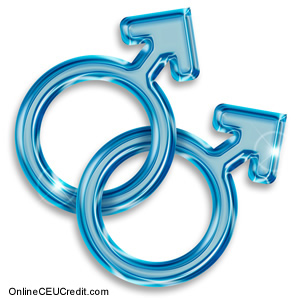 professional issues surrounding it have profoundly influenced my life for over a decade. In 1984 my oldest brother died as a result of AIDS followed by my best friend and partner in my practice in 1989. Six men who lived in my apartment building have died from AIDS in the past 12 years, as have numerous acquaintances, colleagues, and several close friends. Four of my closest friends are currently seriously ill with complications from AIDS. The man I love and share my life with has AIDS. When patients and therapists are dealing with virtually identical life crises simultaneously, the potential for therapeutic mistakes is enormous. Therapists must be highly skilled and self-aware in order to avert such dangers.

As a therapist with a largely gay male practice, I work with people who are living with AIDS or who are intimately affected by it every day. Before the onset of AIDS, active alcoholism, drug addiction and Hepatitis B were the only life-threatening illnesses likely to kill my patients. My first professional experience with AIDS was in 1981 when a psychotherapy client began exhibiting symptoms of what we now know is HIV illness. At that time AIDS was unknown but shortly thereafter, the syndrome was labeled "Gay Related Immune Deficiency" (GRID). It soon became clear to me that the men who were sick with this new disease had lived no differently than I had for many years. I assumed that if these people were getting sick, there was an excellent chance that the same thing could or would probably happen to me. In 1983, I began to volunteer at Gay Men's Health Crisis (GMHC), working with people with AIDS, and supervising other volunteers. I still volunteer at GMHC. In the past 12 years, over 100 patients in my private practice have died from AIDS. My purpose in relating the above experiences is to attempt to describe how I, along with so many others, am able to survive and thrive emotionally, psychologically, and spiritually in the midst of this plague and how I continue to do this work without becoming burned-out.

Colleagues and friends often ask me how it is that I've been able to work in AIDS for so long, dealing with all the pain and suffering endemic to this patient population. Others ask whether it's overwhelming to have intimately known and worked with so many people who have died or who are dying.

As an action-oriented person I have had to struggle to learn that I am indeed doing something by simply sitting with clients, caring about them, and encouraging them to share any and all of their feelings about what is happening to them. Of course, I am unable to change the outcome of their illness. Accepting this reality, more than anything else, has taught me how to tolerate discomfort.

The discomfort I experience is about many things. Often it arises from a genuine empathetic connection with clients who are honestly experiencing feelings about their loss of health, career, lover, and their own imminent death. Once I have grown to care about a person comes all the accompanying discomfort about losing that person. Sometimes there is simply the uneasiness of being close to a person who is very ill or who is dying, simply because this reminds me of the fragility of my own good health.

What follows are some case examples that illustrate the challenges inherent in attempting to provide competent treatment while living and practicing under the shadows of HIV/AIDS.

The potential for burnout in AIDS service providers is a serious reality. My experience is that burnout happens largely when people ignore their feelings. Thus I share in this chapter what it is like for me to do this work, in the hope that other therapists doing similar work will find it helpful to read about my struggles. The challenge remains how do we sustain ourselves and each other for this reality: AIDS will likely be with us for the rest of our professional lives.

It would not have been possible for me to live through all of this, without losing whatever "serenity" I had, if I had not been in my own active psychotherapy and supervision with a remarkable woman who has been my professional mentor for the past 15 years. In addition, for five years, in the early to mid 1980s, I attended a support group for health care professionals who were working in AIDS. We met regularly and provided ourselves with a "safe space" to ascertain what each needed in order to continue to do this draining, yet exhilarating work.

It has become increasingly clear to me from supervising therapists working in AIDS, and facilitating support groups for AIDS professionals, that the only way any of us are able to continue to expend the prodigious amounts of energy demanded by this work, is when we are able to feed and nurture our many needs as individuals. When I ask the professionals I work with what they do to "feed" themselves, they often look at me as if I were crazy. I have been told on more than one occasion, "I don't have time to do my work, have a life, and take care of my own needs as well." This is a poignant conflict. Similarly, a large part of my work with care-partners of people with AIDS is to encourage them to take time for themselves and to give themselves much-needed breaks from their routine. I am amazed at how resistant both colleagues and clients are to the notion of building in time for play and fun in the midst of the horror.

A Classic Case of Countertransference
Ernie had been a patient of mine for five years when John, his best friend of 25 years and roommate for the past eight became acutely ill with AIDS and decided to return home to the mid west. Ernie felt very guilty that he had not tried to talk John into continuing to live in New York in their small studio apartment. I fully supported his decision about the impracticality of John's continuing to live with him but this proved to be a mistake because I had not explored Ernie's feelings thoroughly enough. Two weeks after John left, Ernie came to session enraged at me. Appropriately, he yelled at me for not having urged him to explore options about having John continue to live with him. Ernie was overwhelmed by guilt that he had abandoned John in his time of greatest need.

As I listened to Ernie and encouraged him to tell me all his feelings, I knew I had messed up and would need to examine this. During supervision I learned why I had behaved as I did in not attempting to explore Ernie's ambivalence.

My failure was largely a result of my experience with my older brother Henry, who was also gay. As adults we were not close and, in fact, our first conversation after a three-year silence was his announcement that he had been diagnosed with AIDS and was going to return to New York to live. My decision to allow Henry to move in with me was impulsive — I did not like him and did not relish the prospect of having him live with me I also did not want to become his primary care-partner but being an AIDS activist, I didn't see how I could refuse to offer my destitute and homeless brother a place to live. Henry lived with me for 14 months until he died in my bed.

At the time I was working with Ernie on this issue, Henry had been dead for two years. Interestingly, it was while exploring my reactions to Ernie that my supervisor, reminded me that, years ago, I had only told her about my brother moving in the day before he was due to arrive. I had neglected to discuss this situation with her and to explore my own ambivalent feelings and possible options before offering to let Henry move in. Because this occurred years before Ernie became my patient, I was unaware it was influencing me. In my unconscious desire to protect Ernie from the horrors I experienced as I watched my brother deteriorate, I had not been neutral in my role as Ernie's therapist.

I find that my work in AIDS, and living surrounded by AIDS, for the past 12 years has increased my appreciation for and my capacity to enjoy the richness of life. While of course tremendously saddened, instead of finding myself drained, I am increasingly nourished and inspired by working with people living with HIV and AIDS, as devastating as it is. The inspiration comes from their courage.

As a gay man living in the midst of a community ravished by AIDS, the issues I've discussed have an obvious immediacy and urgency to me personally as well as professionally. While the content of this discussion has been living and practicing psychotherapy in the face of a particular plague, I think that the dynamics are universally relevant to all therapists. Which of us has not had to face our own fears and losses, or grapple with our own mortality? This is the core of human pain and triumph. How we manage these issues defines our personhood. How we help our patients manage these issues defines us as therapists.
The article above contains foundational information. Articles below contain optional updates.

=================================

Personal Reflection Exercise #5
The preceding section contained information about burnout when working with terminal clients. Write three case study examples regarding how you might use the content of this section in your practice.

Online Continuing Education QUESTION 12
What factor contributed to HIV worker, Shernoff, "failure," as he terms it, concerning countertransference? Record the letter of the correct answer the .