Because these families are often isolated and don't' have a lot of support, one of the important things we can do as clinicians, especially for the children, are involve the school counselors. We may see this family or this child one hour out of a week, a school counselor has much more opportunity, at least throughout the week, where they're seeing the child five times a day to be able to pull them aside for five minutes and say, "How are things going? Are you okay?" And it's important for that school counselor to be up-to-date and aware of what's going on.
So some of the things that are suggested by the researchers: sharing information about academics back and forth between the psychiatric counselor therapist and the school counselor.
The behavior: is the behavior going on at school, at home, what is the problem behavior, what does the school counselor see as the root cause, what does the family see, what do you see.
Professional development: we as counselors of course can provide opportunities for school staff, school counselors to educate them on the unique needs of these families, especially because a lot of these families are becoming much more prominent in our society now, school counselors who've been practicing for a long time, may not be up on all the research and who has time, free time, to go and read a bunch of research, no that's why professional development is so important.
Our role, of course, with them would be to share our treatment interventions what are we doing, are there medications that are being used, what should the school counselor be aware of when it comes to that. And again, some more websites for the school-related resources for these families.
We're going to talk about two additional interventions that are more bigger than helping this particular incident. The first one is Sandtray. Sandtray is about you have a physical tray of sand and in that, you have a lot of different figures you can use to place into it, you want to have figures of every guilt that there is, from animals to cars to transportation to people and wizards and magicians, just a whole slew of different figures. A lot of clinics here have sandtray set up in a lot of schools and are now invested in the sandtray and the figures available for their clinicians.
We use sandtray you're allowing children and adults to use symbolic and metaphorical illustrations for what's going on for them. And a lot of times when children don't have words for what's happening to them, they can use such things as figures and metaphors without realizing what they're doing to work through their issues. And especially when you're working with families that are different, you can use sandtray to invite children and parents to create a picture of your family in the sand. Some children might go to all the animals, they might have a bunny family or a horse family or an elephant family when they create their family, other ones might be more literal. And that's why it's really important for you to have a wide set of figures, like if you're gonna LG families, you're gonna want to have two similar figures of men so if they've got two dads or you can have two moms or you can have a figure in a wheelchair, you want to have different ethnicities, you want to have a whole slew of different figures so children can pick and choose what makes sense to them to kind of model their family.
The one thing about sandtray is that you don't really have to interpret what goes on. It's a process where kids come through week after week and they can update their figures, they can create new pictures. I had a client, a little girl, whose family was going through a divorce, she was using mermaids and babies and then the father was the mean king across the sea because her mother was keeping her from seeing her father. So children can pick different ways of illustrating their family, their not tied down to draw a picture of your family, kids want to do five faces, three faces. So this gives children a different way to express their feelings and you don't need so much to interpret as you do to just allow them the freedom to go through.
A lot of times when they create a tray, you can ask them, "How would you title this?" And kids can come up with some really insightful titles without realizing what might be going on. My client I worked with said, "This is the birth", and it was when the king was allowed to cross over the sea to visit the mermaid and her baby and for it since the beginning of that time, she was getting more freedom to be with her dad, her dad's new wife was coming to counseling herself through a lot of changes, and so she said it was the birth because it was like a new beginning for her and her family. So giving kids a chance to create these things without direction, can help them work though some issues that they don't have the words to describe.
Below are the PowerPoints that accompany the instructor's lecture for this track.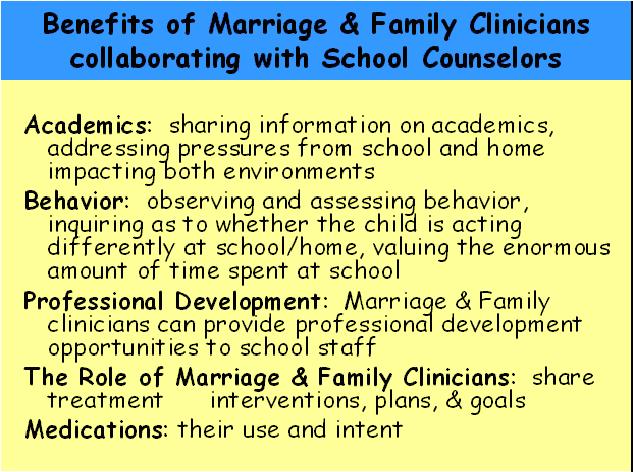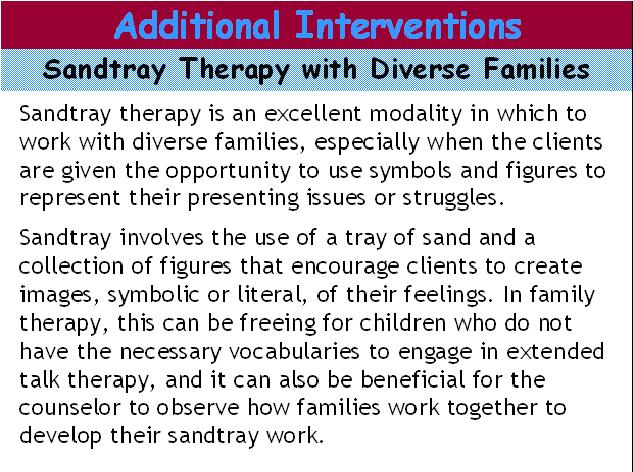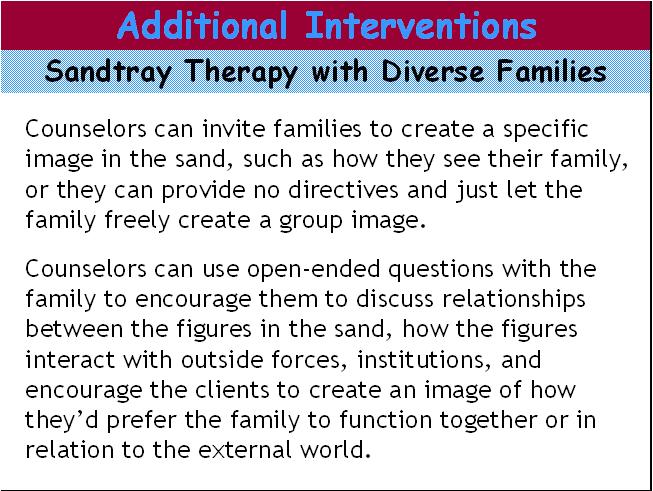 - Degges-White, S. (2008). Working with Culturally Diverse Families. Lecture presented at the Indiana Counseling Association Annual Conference.
Change during Psychotherapy through Sand Play Tray in Children

- Tornero, M. D., & Capella, C. (2017). Change during Psychotherapy through Sand Play Tray in Children That Have Been Sexually Abused. Frontiers in Psychology, 8. doi:10.3389/fpsyg.2017.00617

Peer-Reviewed Journal Article References:
Bojanowski, S., Gotti, E. G., Wanowski, N., Nisslein, J., & Lehmkuhl, U. (2020). Sibling relationships of children and adolescents with mental disorders–Resource or risk factor? Journal of Family Psychology.

Campos, B., & Kim, H. S. (2017). Incorporating the cultural diversity of family and close relationships into the study of health. American Psychologist, 72(6), 543–554.

Hartwig, E. K., & Bennett, M. M. (2017). Four approaches to using sandtray in play therapy supervision. International Journal of Play Therapy, 26(4), 230–238.

Martin Romero, M. Y., Gonzalez, L. M., Stein, G. L., Alvarado, S., Kiang, L., & Coard, S. I. (2021). Coping (together) with hate: Strategies used by Mexican-origin families in response to racial–ethnic discrimination. Journal of Family Psychology. Advance online publication.

Martinez-Fuentes, S., Jager, J., & Umaña-Taylor, A. J. (2020). The mediation process between Latino youths' family ethnic socialization, ethnic–racial identity, and academic engagement: Moderation by ethnic–racial discrimination? Cultural Diversity and Ethnic Minority Psychology. Advance online publication.

Perryman, K. L., Moss, R. C., & Anderson, L. (2016). Sandtray supervision: An integrated model for play therapy supervision. International Journal of Play Therapy, 25(4), 186–196.

Online Continuing Education QUESTION 13
According to the speaker, what is the reason given by the speaker that you do not need to interpret what goes on during Sandtray Therapy? To select and enter your answer go to .