Now we'll go to narrative therapy that Kim will share with you. Narrative therapy can be very effective with diverse families. Number one reason is that it externalizes the problem. Instead of laying the blame on the family for being different, it externalizes it, it says it's not your fault for being different, it's a societal issue. You're trying to fit into a society which is not as accepting of you and your family. So that can be very powerful for the family.
It lets them tell their own story that we've been saying is so important. They can bring in other family members, it helps them get a better understanding of each member's perspective. You can have each family member write their own little narrative and then share that within session to see their different views of how they see the family.
With role model families accessible, these families can create their own definitions of family. So compared to what we might consider a "role model" family, where do you guys fall? How do you fit? And then they can construct their narrative, their story, their meaning for what's healthy functioning in their family.
This goes on to describe a little bit more of the details. Just that you want to give them a method for making sense of their past, their present, the positive, and make sure hopefully it's a positive focus on the future, that things will get better from here. Negative experiences, discrimination, homophobia, you don't want to dismiss them, you want to acknowledge that they have been there but how can we move on, how can we move past this, how can we learn to cope with this.
They're not labeled within this format. Each individual family member is encouraged to share their own perspective on the event and collaborate in a solution-focused story, so you have all the family members come together, they tell their narrative, and maybe they don't quite fit. So how can we get this to all fit together? What's the solution? What way can we get these stories to connect and be one story about your family?
Using White and Epston's Model for narrative therapy as an outline can be very effective and the steps that the outline provides are the deconstruction, externalization, and reconstruction of the family. So breaking down what has been, externalizing the problem, reminding the family that it's not their fault for being different, it's the society that you're living in, and reconstructing it, how can we make something better, something more positive out of this for you.
Very much empowers the clients and helps them advocate for themselves. All these interventions we suggest are ones that give clients the power to make sense of what's happening for them and help them find ways to solve the problems on their own. Instead of saying, "You're different, that's a negative thing, you're not capable of solving your own problems," "You're different, that's great, tell me what your going to do next to solve these problems that are facing you." Always give the power back to the client so the clinicians doesn't have to feel that their in the hierarchical role, there's more very much collaborative and collegial which I think is important because it helps the families dealing with difference believe in themselves and advocate for themselves.
Below are the PowerPoints that accompany the instructor's lecture for this track.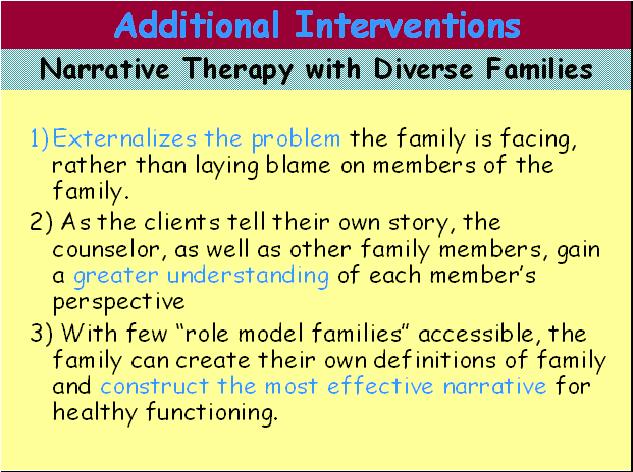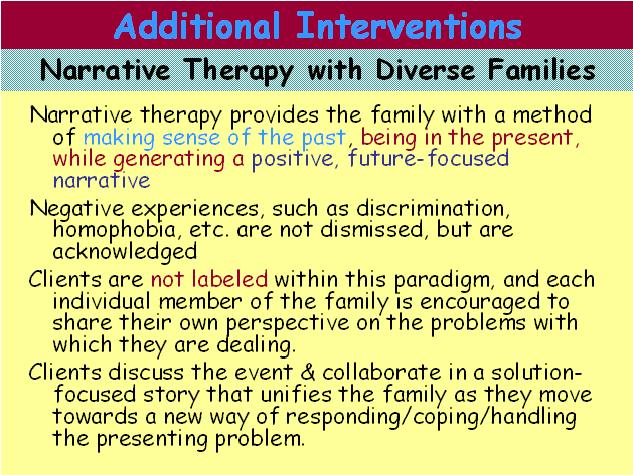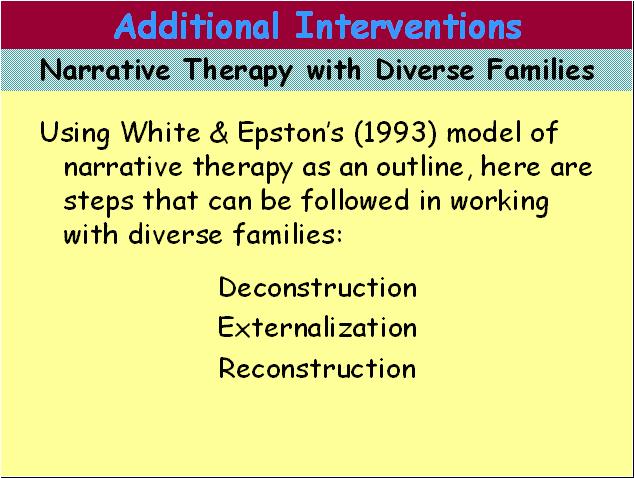 - Degges-White, S. (2008). Working with Culturally Diverse Families. Lecture presented at the Indiana Counseling Association Annual Conference.

Peer-Reviewed Journal Article References:
Bartolucci, M., & Batini, F. (2019). The effect of a narrative intervention program for people living with dementia. Psychology & Neuroscience, 12(2), 307–316.

Bojanowski, S., Gotti, E. G., Wanowski, N., Nisslein, J., & Lehmkuhl, U. (2020). Sibling relationships of children and adolescents with mental disorders–Resource or risk factor? Journal of Family Psychology.

Campos, B., & Kim, H. S. (2017). Incorporating the cultural diversity of family and close relationships into the study of health. American Psychologist, 72(6), 543–554.

Martin Romero, M. Y., Gonzalez, L. M., Stein, G. L., Alvarado, S., Kiang, L., & Coard, S. I. (2021). Coping (together) with hate: Strategies used by Mexican-origin families in response to racial–ethnic discrimination. Journal of Family Psychology. Advance online publication.

Rolbiecki, A., Anderson, K., Teti, M., & Albright, D. L. (2016). "Waiting for the cold to end": Using photovoice as a narrative intervention for survivors of sexual assault. Traumatology, 22(4), 242–248.

Online Continuing Education QUESTION 14
What does the Externalization stage consist of? To select and enter your answer go to .