Actually that brings to mind for me a client I worked with in a college counseling center. I believe he was nineteen or twenty, a typical college age, had cerebral palsy, not severely, he was actually able even drive. But the interesting thing was that one of his reasons for coming to counseling was that his mother was having such a hard time dealing with him moving to this new stage of life. Up until this point in time, she was there, taking care of him, providing for all of his needs, helping though all of his surgeries. Well now he is an adult, the extra one of the things was that he wanted to go away to school and so he was debating should I do this, should I not. Can I do this? Can't I? My mom doesn't think I can? And so I think it's important to remember not just children, little children with disabilities can affect the family, but even when they become adults because that parent has been so in tune with taking care of this child and their extra special needs, it's sometimes hard to let go when the time may be right. Which goes along with the idea this intervention of meaning making because the mother that can share, obviously the meaning in the life a lot of was taking care of this child. I make meaning out of my son's disability by giving me a reason to get up each day, it gives me someone to care for.
You need to listen for the negative and positive attributions family members give the condition. And for this mother, the positive was it gave her someone to take care of. Which is different from people who often blame themselves or others for causing or exacerbating the condition. You have to listen how do they make meaning of what's going on, who do they want to blame, why do they want to blame someone, what's going on with them. But with additional information about the member's condition or by challenging cultural biases, one can help free that family to create an alternative explanations and their own practical solutions. So it involves the family in working through this. Some families need to know why, you work with clients for a lot of reasons, "I don't know why I'm like this. Why is my life this way?" And with families like these, a lot of times, there's not going to be a why and to know the why isn't going to help them, it won't help them move forward. So help them work through some kind of alternative explanation for what's happening to their family. Look for some reason, look for a positive attribution to it so they can make sense of it, and then work towards practical solutions, because they know daily living is challenging.
Be aware that siblings are very much affected by children who are different. It takes a lot of their attention away and they may resent Mom, Dad, and the sibling who has the condition. So be aware and don't let them get lost in the shuffle, it's really important.
Here are some the web resources and other resources. The Arc is for mental retardation; Best Buddies for intellectual disabilities families; and then Sibshops are celebrations of the many contributions made by brothers and sisters of kids with special needs and they have summer camps for the sibs. Now we have more and more summer camps for kids who have disorders, where here's a place for kids who have to put up, or cope, with a sibling. That's why that say having to put up with this, I can go hear and I can be with people who are like me. Again, breaking the isolation because all these families are different and isolation can really hinder them from functioning effectively, think those are different.
Below are the PowerPoints that accompany the instructor's lecture for this track.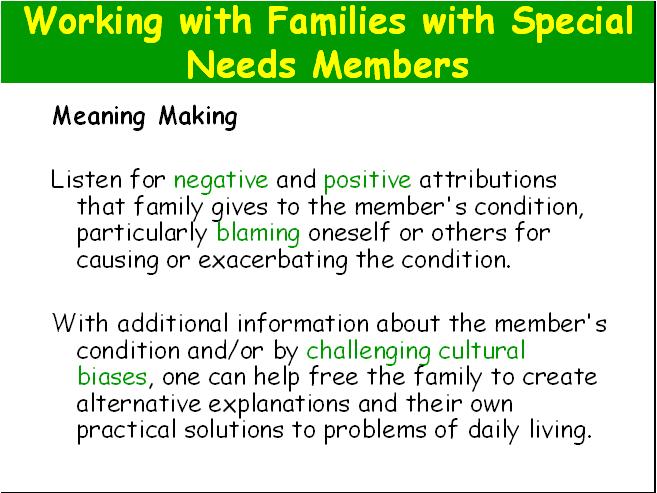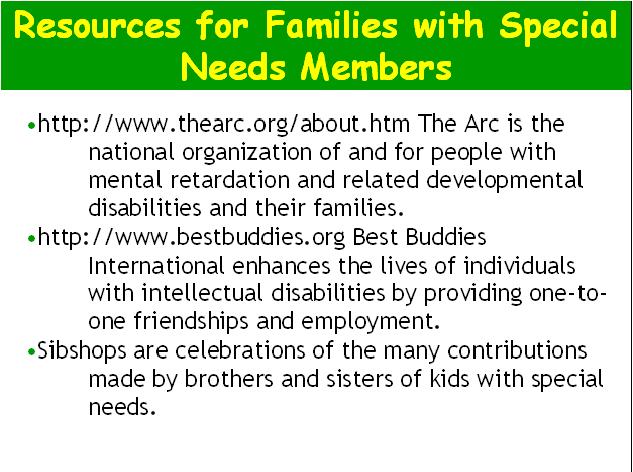 - Degges-White, S. (2008). Working with Culturally Diverse Families. Lecture presented at the Indiana Counseling Association Annual Conference.
Supporting Siblings of Children with Disabilities in the School Setting: Implications and Considerations for School Counselors
- Hannon, M. D. (2012). Supporting Siblings of Children with Disabilities in the School Setting: Implications and Considerations for School Counselors. Journal of School Counseling, 10(13). Retrieved from https://files.eric.ed.gov/fulltext/EJ978869.pdf.

Peer-Reviewed Journal Article References:
Bojanowski, S., Gotti, E. G., Wanowski, N., Nisslein, J., & Lehmkuhl, U. (2020). Sibling relationships of children and adolescents with mental disorders–Resource or risk factor? Journal of Family Psychology. Advance online publication.

Campos, B., & Kim, H. S. (2017). Incorporating the cultural diversity of family and close relationships into the study of health. American Psychologist, 72(6), 543–554.

Drinane, J. M., Owen, J., & Tao, K. W. (2018). Cultural concealment and therapy outcomes. Journal of Counseling Psychology, 65(2), 239–246.

Ma, N., Roberts, R., Winefield, H., & Furber, G. (2015). Utility of qualitative metasynthesis: Advancing knowledge on the wellbeing and needs of siblings of children with mental health problems. Qualitative Psychology, 2(1), 3–28.

Smith, J. L., McPartlan, P., Poe, J., & Thoman, D. B. (2021). Diversity fatigue: A survey for measuring attitudes towards diversity enhancing efforts in academia. Cultural Diversity and Ethnic Minority Psychology, 27(4), 659–674.

Online Continuing Education QUESTION 12
What is one reason why siblings of special needs children are often resentful regarding the special needs child and their parents? To select and enter your answer go to .