Executive Summary
In 1996, in the Health Insurance Portability and Accountability Act (HIPAA), Congress gave itself until August 1999 to enact legislation to protect medical privacy. That deadline is fast approaching. Legislative mandates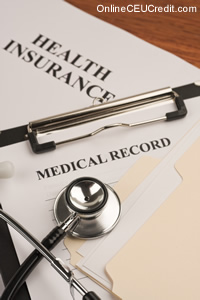 aside, why does it matter whether legal privacy protections extend to the confidentiality and security of our medical information? It matters because these records contain the most intimate, personal, potentially embarrassing and stigmatizing information that is ever collected about us. It affects all of us, since at some point in our lives, we all seek medical care.
It is crucial to remember that the primary purpose for collecting personal medical information from a patient is for the clinical diagnosis and treatment of that patient. Fundamentally, this is the reason a patient confides information to a physician or other health care provider in the first place. If a patient cannot trust a provider or institution to keep highly sensitive and personal facts confidential, a crucial foundation in the relationship between patient and provider is undermined. Patients will be less willing to divulge sensitive information about their condition and lives, which will then impede adequate diagnosis and treatment. Indeed, a recent survey found that fully half of all adults said they have done something "out of the ordinary" to keep personal medical information confidential (California HealthCare Foundation, 1999). The result of this may well be a lower quality of medical care and a lower quality of data in the medical records themselves.
As the current Congress contemplates medical privacy legislation for its August 1999 deadline, the National Coalition for Patient Rights wants to ensure that policy-makers understand all that is at stake for patients in this debate. The decisions that are going to be made in the coming months will have a profound impact on the delivery and quality of health care in the United States.
The debate about medical privacy (and indeed, informational privacy issues in many contexts) typically revolves around the need to "balance" privacy with other competing values and interests. We do not think this language of "trade-offs" serves either patients or the medical establishment well. Patients are owed the duty of confidentiality by virtue of the agreements that either implicitly or explicitly structure the provider-patient relationship. We also believe, however, that other activities involving medical records can occur, within a carefully crafted and protective framework.

To be protective, this framework must include a strong federal legislative floor to guarantee to each patient the general right to medical privacy, without preempting the stronger medical privacy rights that have been or will be granted by the states to their citizens. In addition, with very few exceptions, medical records should not be disclosed to anyone outside the clinical care context without the explicit, meaningful, informed consent of the patient.
Patients must be able to access and correct their medical records. This is an essential part of a system that protects patient privacy and the confidentiality of medical records. Without such access to their own medical information, patients can hardly give informed consent for the use of their records.
Furthermore, each health care facility should designate a Medical Records Trustee who is responsible for ensuring the confidentiality of medical records and compliance with federal and state law. As an additional part of this duty, institutions should maintain access logs or audit trails of who has accessed medical records and for what purposes, and such logs should be open to patient review.
The use of medical records in biomedical research deserves special consideration, since such use has the potential of producing great social benefit. Therefore, in the White Paper, we provide a detailed strategy that will both foster biomedical research and honor patient autonomy and privacy. A key component of this proposal is the establishment of Medical Records Review Boards, which would be responsible for assessing the propriety of the research and for ensuring that investigators follow procedures to protect patient privacy and medical record confidentiality.
Finally, we do not believe that simply because of changes in technology, i.e., the computerization of the medical record and all that this entails or makes possible, that patient privacy or other values must necessarily be modified or given up. Contrary to the technological imperative which continues to drive social change in our society, the ability to do something does not imply that it ought to be done.
Online Continuing Education QUESTIONS 15& 16
In "Protecting the Privacy of Medical Records An Ethical Analysis" what two factors appear to be in conflict?
(15)_____
(16)_____
To select and enter your answer go to .

Personal Reflection Exercise #2
The preceding section contained ideas about protecting the privacy of medical records. Write three case study examples regarding how you might use the content of this section of the Manual in your practice.