National Association of Social Workers Code of Ethics
(excerpt summary)

1.07 Privacy and confidentiality

(a) Respect your client's right to privacy. Do not solicit private information unless it is essential to providing services or conducting research. Once private information is shared, standards of confidentiality apply.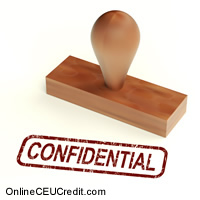 (b) You may disclose confidential information with a written consent from the client or other persons legally authorized to consent on behalf of the client.

(c) Protect confidentiality except for compelling professional reasons such as...
-to prevent serious, foreseeable, and imminent harm to a client or identifiable others.
-when a law or regulations require disclosure without client consent. Disclose the least amount of information necessary to achieve the desired purpose.

(d) When possible and feasible, inform clients about the a disclosure of confidentiality information and potential consequences before making the disclosure.
American Association of Marriage and Family Therapists Code of Ethics

2. Confidentiality
Marriage and family therapists have unique confidentiality concerns, because the client in a therapeutic relationship may be more than one person. Therapists respect and guard confidences of each individual client.

2.1 Marriage and family therapists may not disclose client confidences except:
(a) as mandated by law;
(b) to prevent a clear and immediate danger to a person or persons:
(c) where the therapist is a defendant in a civil criminal, or disciplinary action arising from the therapy (in which case, client confidences may be disclosed in the course of that action);
(d) if there is a waiver previously obtained in writing, and then such information may be revealed only in accordance with the terms of the waiver. In circumstances where more than one person in a family receives therapy, each such family member who is legally competent to execute a waiver must agree to the waiver required by subparagraph (d). With out such a waiver from each family member legally competent to execute a waiver, a therapist cannot disclose information received from any family member.
2.2 Marriage and family therapists use client and/or client materials in teaching, writing, and public presentation only if a written waiver has been obtained in accordance with Subprinciple 2.1 (d), or when appropriate steps have been taken to protect client identity and confidentiality.
2.3 Marriage and family therapists store or dispose of client records in ways that maintain confidentiality.
American Psychological Association
Ethical Principles of Psychologists and Code of Conduct

5. Privacy and Confidentiality
These Standards are potentially applicable to the professional and scientific activities of all psychologists.

5.01 Discussing the Limits of Confidentiality.
(a) Psychologists discuss with persons and organizations with whom they establish a scientific or professional relationship (including, to the extent feasible, minors and their legal representatives)
(1) the relevant limitations on confidentiality, including limitations where applicable in group, marital, and family therapy or in organizational consulting, and
(2) the foreseeable uses of the information generated through their services.
(b) Unless it is not feasible or is contraindicated, the discussion of confidentiality occurs at the outset of the relationship and thereafter as new circumstances may warrant.
(c) Permission for electronic recording of interviews is secured from clients and patients.
5.02 Maintaining Confidentiality.
Psychologists have a primary obligation and take reasonable precautions to respect the confidentiality rights of those with whom they work or consult, recognizing that confidentiality may be established by law, institutional rules, or professional or scientific relationships. (See also Standard 6.26, Professional Reviewers.)
5.03 Minimizing Intrusions on Privacy.
(a) In order to minimize intrusions on privacy, psychologists include in written and oral reports, consultations, and the like, only information germane to the purpose for which the communication is made.
(b) Psychologists discuss confidential information obtained in clinical or consulting relationships, or evaluative data concerning patients, individual or organizational clients, students, research participants, supervisees, and employees only for appropriate scientific or professional purposes and only with persons clearly concerned with such matters.
5.04 Maintenance of Records.
Psychologists maintain appropriate confidentiality in creating, storing, accessing, transferring, and disposing of records under their control, whether these are written, automated, or in any other medium. Psychologists maintain and dispose of records in accordance with law and in a manner that permits compliance with the requirements of this Ethics Code.
5.05 Disclosures.
(a) Psychologists disclose confidential information without the consent of the individual only as mandated by law, or where permitted by law for a valid purpose, such as
(1) to provide needed professional services to the patient or the individual or organizational client,
(2) to obtain appropriate professional consultations,
(3) to protect the patient or client or others from harm, or
(4) to obtain payment for services, in which instance disclosure is limited to the minimum that is necessary to achieve the purpose.
(b) Psychologists also may disclose confidential information with the appropriate consent of the patient or the individual or organizational client (or of another legally authorized person on behalf of the patient or client), unless prohibited by law.
5.06 Consultations.
When consulting with colleagues,
(1) psychologists do not share confidential information that reasonably could lead to the identification of a patient, client, research participant, or other person or organization with whom they have a confidential relationship unless they have obtained the prior consent of the person or organization or the disclosure cannot be avoided, and
(2) they share information only to the extent necessary to achieve the purposes of the consultation. (See also Standard 5.02, Maintaining Confidentiality.)
5.07 Confidential Information in Databases.
(a) If confidential information concerning recipients of psychological services is to be entered into databases or systems of records available to persons whose access has not been consented to by the recipient, then psychologists use coding or other techniques to avoid the inclusion of personal identifiers.
(b) If a research protocol approved by an institutional review board or similar body requires the inclusion of personal identifiers, such identifiers are deleted before the information is made accessible to persons other than those of whom the subject was advised.
(c) If such deletion is not feasible, then before psychologists transfer such data to others or review such data collected by others, they take reasonable steps to determine that appropriate consent of personally identifiable individuals has been obtained.
5.08 Use of Confidential Information for Didactic or Other Purposes.
(a) Psychologists do not disclose in their writings, lectures, or other public media, confidential, personally identifiable information concerning their patients, individual or organizational clients, students, research participants, or other recipients of their services that they obtained during the course of their work, unless the person or organization has consented in writing or unless there is other ethical or legal authorization for doing so.
(b) Ordinarily, in such scientific and professional presentations, psychologists disguise confidential information concerning such persons or organizations so that they are not individually identifiable to others and so that discussions do not cause harm to subjects who might identify themselves.
5.09 Preserving Records and Data.
A psychologist makes plans in advance so that confidentiality of records and data is protected in the event of the psychologist's death, incapacity, or withdrawal from the position or practice.
5.10 Ownership of Records and Data.
Recognizing that ownership of records and data is governed by legal principles, psychologists take reasonable and lawful steps so that records and data remain available to the extent needed to serve the best interests of patients, individual or organizational clients, research participants, or appropriate others.
5.11 Withholding Records for Nonpayment.
Psychologists may not withhold records under their control that are requested and imminently needed for a patient's or client's treatment solely because payment has not been received, except as otherwise provided by law.
National Board for Certified Counselors Code of Ethics

Section B: Counseling Relationship

1. The primary obligation of certified counselors is to respect the integrity and promote the welfare of clients, whether they are assisted individually, in family units, or in group counseling. In a group setting, the certified counselor is also responsible for taking reasonable precautions to protect individuals from physical and/or psychological trauma resulting from interaction within the group.
2. Certified counselors know and take into account the traditions and practices of other professional disciplines with whom they work and cooperate fully with such. If a person is receiving similar services from another professional, certified counselors do not offer their own services directly to such a person. If a certified counselor is contacted by a person who is already receiving similar services from another professional, the certified counselor carefully considers that professional relationship as well as the client's welfare and proceeds with caution and sensitivity to the therapeutic issues. When certified counselors learn that their clients are in a professional relationship with another counselor or mental health professional, they request release from the clients to inform the other counselor or mental health professional of their relationship with the client and strive to establish positive and collaborative professional relationships that are in the best interest of the client. Certified counselors discuss these issues with clients and the counselor or professional so as to minimize the risk of confusion and conflict and encourage clients to inform other professionals of the new professional relationship.
3. Certified counselors may choose to consult with any other professionally competent person about a client and must notify clients of this right. Certified counselors avoid placing a consultant in a conflict-of-interest situation that would preclude the consultant serving as a proper party to the efforts of the certified counselor to help the client.
4. When a client's condition indicates that there is a clear and imminent danger to the client or others, the certified counselor must take reasonable action to inform potential victims and/or inform responsible authorities. Consultation with other professionals must be used when possible. The assumption of responsibility for the client's behavior must be taken only after careful deliberation, and the client must be involved in the resumption of responsibility as quickly as possible.
5. Records of the counseling relationship, including interview notes, test data, correspondence, audio or visual tape recordings, electronic data storage, and other documents are to be considered professional information for use in counseling. Records should contain accurate factual data. The physical records are property of the certified counselors or their employers. The information contained in the records belongs to the client and, therefore, may not be released to others without the consent of the client or when the counselor has exhausted challenges to a court order. The certified counselors are responsible to insure that their employees handle confidential information appropriately. Confidentiality must be maintained during the storage and disposition of records. Records should be maintained for a period of at least five (5) years after the last counselor/client contact, including cases in which the client is deceased. All records must be released to the client upon request.
6. Certified counselors must ensure that data maintained in electronic storage are secure. By using the best computer security methods available, the data must be limited to information that is appropriate and necessary for the services being provided and accessible only to appropriate staff members involved in the provision of services. Certified counselors must also ensure that the electronically stored data are destroyed when the information is no longer of value in providing services or required as part of client's records.
7. Any data derived from a client relationship and used in training or research shall be so disguised that the informed client's identity is fully protected. Any data which cannot be so disguised may be used only as expressly authorized by the client's informed and uncoerced consent.

American Counseling Association Code of Ethics Excerpt - Section B: Confidentiality Standard of Practice
#9. Confidentiality Requirement. Counselors must keep information related to counseling services confidential unless disclosure is in the best interest of clients, is required for the welfare of others, or is required by law. When disclosure is required, only information that is essential is revealed and the client is informed of such disclosure.
#10. Confidentiality Requirements for Subordinates. Counselors must take measures to ensure that privacy and confidentiality of clients are maintained by subordinates.
#11. Confidentiality in Group Work. Counselors must clearly communicate to group members that confidentiality cannot be guaranteed in group work.
#12. Confidentiality in Family Counseling. Counselors must not disclose information about one family member in counseling to another family member without prior consent.
#13. Confidentiality of Records. Counselors must maintain appropriate confidentiality in creating, storing, accessing, transferring, and disposing of counseling records.
#14. Permission to Record or Observe. Counselors must obtain prior consent from clients in order to record electronically or observe sessions.
#15. Disclosure or Transfer of Records. Counselors must obtain client consent to disclose or transfer records to third parties, unless exceptions listed in Standard of Practice Nine exist.
#16. Data Disguise Required. Counselors must disguise the identity of the client when using data for training, research, or publication.

NOTE: sentences and phrases are in bold type, in each Section of this Manual, for the purpose of highlighting key ideas for easy reference.
Online Continuing Education QUESTIONS 13 & 14
NASW, AAMFT, APA, and NBCC Code of Ethics, Privacy and Confidentiality Sections all address what two exceptions to disclose of confidential information without the consent of the individual:
(13)_____
(14)_____
To select and enter your answer go to .
Evolution of Social Work Ethics by Mary Rankin, J.D.
The change in a social worker's approach to ethical concerns is one of the most significant advances in our profession. Early in the 20th century, a social worker's concern for ethics centered on the morality of the client, not the ethics of the profession or its practitioners. Over the next couple of decades, the emphasis on the client's ethics began to weaken as social workers began developing new perspectives and methods that eventually would be fundamental to the profession, all in an effort to distinguish social work's approach from other allied health professions.
The first attempt at creating a code of ethics was made in 1919, and by the 1940s and 1950s, social workers began to focus on the morality, values, and ethics of the profession, rather than the ethics and morality of the patient. As a result of the turbulent social times of the 1960s and 1970s, social workers began directing significant efforts towards the issues of social justice, social reform, and civil rights.

In the 1980s and 1990s, the focus shifted from abstract debates about ethical terms and conceptually complex moral arguments to more practical and immediate ethical problems. For example, a significant portion of the literature from the time period focuses on decision-making strategies for complex or difficult ethical dilemmas. More recently, the profession has worked to develop a new and comprehensive Code of Ethics to outline the profession's core values, provide guidance on dealing with ethical issues and dilemmas, and also to describe and define ethical misconduct. Today, ethics in social work is focused primarily on helping social workers identify and analyze ethical dilemmas, apply appropriate decision-making strategies, manage ethics related risks, and confront ethical misconduct within the profession.

http://digitalcommons.ric.edu/cgi/viewcontent.cgi?article=1169&context=facultypublications

The following contains thee key Legal issues for mental health professionals: Tarasoff - Duty to Warn, Duty to Protect; and Mandatory Reporting of Child Abuse
Tarasoff - Duty to Warn, Duty to Protect
Most states have laws that either require or permit mental health professionals to disclose information about patients who may become violent often referred to as the duty to warn and/or duty to protect. These laws stem from two decisions in Tarasoff v. The Regents of the University of California. Together, the Tarasoff decisions impose liability on all mental health professionals to protect victims from violent acts. Specifically, the first Tarasoff case imposed a duty to verbally warn an intended victim victim of foreseeable danger, and the second Tarasoff case implies a duty to protect the intended victim against possible danger (e.g., alert police, warn the victim, etc.).
Domestic Violence – Confidentiality and the Duty to Warn
Stemming from the decisions in Tarasoff v. The Regents of the University of California, many states have imposed liability on mental health professionals to protect victims from violent acts, often referred to as the duty to warn and duty to protect. This liability extends to potential victims of domestic violence. When working with a client who has a history of domestic violence, a social worker should conduct a risk assessment to determine if whether there is a potential for harm, and take all necessary steps to diffuse a potentially violent situation.
Mandatory Reporting of Child Abuse
All states have laws that identify individuals who are obligated to report suspected child abuse, including social workers these individuals are often referred to as "mandatory reporters." The requirements vary from state to state, but typically, a report must be made when the reporter (in his or her official capacity) suspects or has reason to believe that a child has been abused or neglected. Most states operate a toll-free hotline to receive reports of abuse and typically the reporter may choose to remain anonymous (there are limitations and exceptions that vary by state so please review your state's laws).
=================================
Personal Reflection Exercise Explanation
The Goal of this Home Study Course is to create a learning experience that enhances your clinical skills. We encourage you to discuss the Personal Reflection Journaling Activities, found at the end of each Section, with your colleagues. Thus, you are provided with an opportunity for a Group Discussion experience. Case Study examples might include: family background, socio-economic status, education, occupation, social/emotional issues, legal/financial issues, death/dying/health, home management, parenting, etc. as you deem appropriate. A Case Study is to be approximately 250 words in length. However, since the content of these "Personal Reflection" Journaling Exercises is intended for your future reference, they may contain confidential information and are to be applied as a "work in progress." You will not be required to provide us with these Journaling Activities.

Personal Reflection Exercise #1
The preceding section contained Codes of Ethics for mental health professionals. Write three case study examples regarding applications of Ethical Principles you feel are in the "gray areas" for your profession.