Characteristics of the child
Children's characteristics, including their apparent temperament, not only affect the way parents interact with them but also contribute to parents' satisfaction. Some parents were delighted with their children's behavior,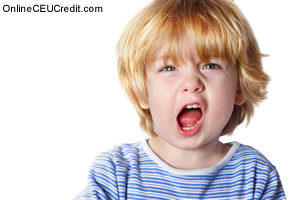 while others found their children's challenging behavior not only frustrating but also a possible reflection of their own incompetence as parents:
"I just think the child makes it so easy and satisfying to be a parent, because if they're a lovely child - as I think J is - well, all the work is just rewarded." (Anglo parent)
"I have two good and lovely children - a happy family." (Vietnamese parent, 5 years residence)
"Most of the time I am very patient and deal with children in a warm and calm way. But sometimes N is too naughty and stubborn. I become angry and lose control, I yell at him and sometimes hit him a little bit." (Vietnamese parent, 8 years residence)
"I don't always manage his bad behavior very well." (Anglo parent)
Obedience and health were strongly emphasized by Vietnamese parents as sources of satisfaction:
"They're good, obedient children. I am satisfied." (Vietnamese parent, 14 years residence)
"I have a good child - intelligent, obedient and healthy." (Vietnamese parent, 14 years residence)
Parental qualities and characteristics
Satisfaction with parenting was closely intertwined with an acknowledgment from the parents of their own personal qualities, a variety of which were seen as promoting a sense of empowerment to deal with the multifaceted tasks of parenting:
"Being extremely well organized, planning my menus and keeping the children under a tight rein - keeping up the discipline especially over the three days a week I work, and learning to enjoy parenting more." (Anglo parent)
"Personal experience makes me stronger (more endurance, tolerance) I can adopt the new ways easier, quicker." (Vietnamese parent, 16 years residence)
A number of older mothers referred to their age in positive and/or negative terms. Maturity and financial resources were considered to enhance parenting, while tiredness, career concerns and entrenched work attitudes and values were seen as detrimental:
"Oh, things like being an older person. I was 37 when I had G ... I've sort of been there, done that - having travelled, having established a career, and having done a lot of the things that would compete with the time that is required to raise children. So I'm feeling that it's a phase of my life that I'm really ready for and I feel that I know myself very well." (Anglo parent)
"In being older parents we have more affluence and are more established ... Being older does help me to explain to the kids some aspects of the world the way it is." (Anglo parent)
"Age. I'm nearly 47, and with age, physical tiredness. The pullback to career and material gain is always there." (Anglo parent)
"I guess we're older. We had her when we were older so we're more set in our ways. My personality ... makes it difficult to be a parent ... very self-centered and very selfish, and to have to accommodate a child is extremely difficult." (Anglo parent)
The inherent demanding nature of parenting necessitates a high level of effort, energy and good health. Lack of these personal attributes were considered to undermine parenting:
"When I'm sick, my spirit is very low. I worry for my child." (Vietnamese parent, 4 years residence)
"Well I suppose the difficult things is just my own health. I wish I had been more healthy because then I'd be able to do more ... and have some energy to just play with M or do things ... Often I feel that we don't go out a lot because I couldn't be bothered, you know. I'm just tired or whatever." (Anglo parent)
Summary
Parenting was seen as a demanding but also rewarding experience, with some parents focusing on the difficulties and others on the joys of raising their children. While the personal attributes of the child and parent were often seen as important factors in determining which of these experiences predominated, so too were other factors within and beyond the family, most particularly the level of partner's support, family type, work-family pressures, access to formal and informal support networks and the community as a whole. At times the classification of comments in the various themes was "fuzzy" because of the strong inter-connection between the various sources of influence.
The strong interplay of individual parental and child characteristics and contextual factors ultimately moulds parenting behavior and its effectiveness. Because the paramount goal of parenting is to promote the development and wellbeing of children, it is crucial that people involved in the design and delivery of family and children's services have a thorough understanding of factors and measures that help to enhance parenting. Moreover, in multicultural Australia, support needs to be sensitive to cultural differences and to the struggles some parents experience in trying to accommodate both their own culture of origin and that of mainstream Australia.
The comments of the parents thus highlight the need to provide multi-layered, flexible and culturally sensitive approaches to supporting families. As such, this study affirms the recommendations advanced by Fraser and Galinsky (1997) that support for parenting be directed at various system levels - the individual, group, family, community and society. The need for community support was particularly emphasized by the Torres Strait Islander parents who lacked some important basic services that support family life and who saw child rearing as a shared communal responsibility.
- Soriano, Grace, Weston, Ruth & Kolar Violet; Meeting the challenges of parenting; Family Matters; Autumn 2001; Issue 58.
=================================
Personal Reflection Exercise #8
The preceding section contained information about child/parent characteristics affect parental roles. Write three case study examples regarding how you might use the content of this section in your practice.
Online Continuing Education QUESTION 22
What was satisfaction with parenting closely intertwined with? Record the letter of the correct answer the .