Social Development Project
This article describes the results of a study that investigated the influence of the match between child temperament and parenting assessed at two years on child behavioral problems at four years of age. It was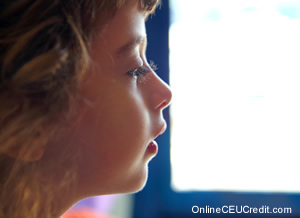 expected that the combination of high negative reactivity and high parental punishment would predict behavioral problems such as aggressive, noncompliant behavior. Also explored were other possible combinations, including negative reactivity with low parental warmth and with low inductive reasoning, and low inhibition with high punishment.
Data reported here come from a longitudinal community study of young children's social development, known as the Social Development Project (funded by the Australian Research Council), which began in 1996. In contrast to the Australian Temperament Project (Prior et al. 2000) which collects more "broad-brush" data on a large sample of children, this study looks intensively at a smaller sample, with the aim of elucidating developmental processes and providing richer data on the children themselves, as well as their interactions with their parents and peers.
The Social Development Project aims to investigate the role of temperament, parenting and social context in the development of behavioral and emotional problems (for example, social withdrawal from peers). A total of 112 two-year-old children (58 boys and 54 girls) and their primary caregivers (110 mothers, 2 fathers) were recruited from the general community through child care centers, maternal and child health centers, kindergartens, playgroups, and responses to advertisements in local newspapers.
At the time of enrolment into the study, the average age of the children was two years and two months, and the average age of the participating caregiver was 35 years. Participants' scores on measures of socioeconomic status, parental daily hassles, stressful family life events, availability of social support to parents, and other measures of family stress indicated that in general the participants were well functioning. The children and their caregivers were followed up again at four years of age.
Multiple methods of data collection have been used, including laboratory observations conducted at a playroom (the Social Development Laboratory) at the University of Melbourne, and parent-completed questionnaires. The laboratory visits were designed to challenge the child by presenting a range of novel situations.
In one session at both two and four years of age, the child and his/her caregiver attended, and the child encountered situations including the entrance of a clown, unusual and noisy toys, and a brief separation from the parent. The second session at two years involved parent-child same-sex pairs, who did not know each other, attending the playroom at the same time. In this session we observed how the children played with toys, whether and how they approached the other child and adult, and how they responded when asked to do things like tidy away the toys. In the second session at four years, four children of the same sex who did not know one another attended together and played with toys, were asked to give a speech in front of the other children about their last birthday, were asked to do various other tasks, and then pack up the toys.
Each session in the playroom was videotaped and later coded to indicate how the parents interacted with their children (for example, comforts, encourages, controls, plays), as well as the child's style of behaving (for example, mood, activity level, how long the child sticks to one activity, how strongly the child reacts to events, how close the child stays to parent, how long it takes the child to play with a novel toy), and adjustment (for example, how often the child disobeys parent, how often the child hurts another child, whether the child watches other children play without joining in). From the playroom sessions and parent report questionnaires, measures of child temperament (negative reactivity, inhibition, and persistence), parenting style (warmth, punishment, inductive reasoning and overprotectiveness), and child adjustment (behavior problems, social withdrawal) were obtained.
This article focuses on the match between those aspects of temperament and parenting style most likely to be associated with behavioral problems. For child temperament these are negative reactivity and inhibition, and for parenting style these include warmth, punishment, and inductive reasoning. The article examines how the temperament and parenting measures drawn from the parent-child session at two years relate to measures of problems at four years of age, as observed with peers and as reported by parents. The behavioral problem measures include evidence of the child hitting others, damaging objects, disobeying instructions, and having temper tantrums.
- Hemphill, Sheryl & Ann Sanson; Matching parenting to child temperament; Family Matters; Winter 2001; Issue 59
Oppositional Defiant and Conduct Disorders


- Oppositional Defiant and Conduct Disorders. Behavior Disorders.
=================================
Personal Reflection Exercise #5
The preceding section contained information about childhood psychiatric disorders affecting the grief process. Write three case study examples regarding how you might use the content of this section in your practice.
Online Continuing Education QUESTION 19
How were measures of child termperament, parenting style, and child adjustment obtained? Record the letter of the correct answer the .