The FREE video below is a section of a seminar lecture given by an instructor.



Below are the PowerPoints that accompany the instructor's lecture for this track.
found at the bottom of this page.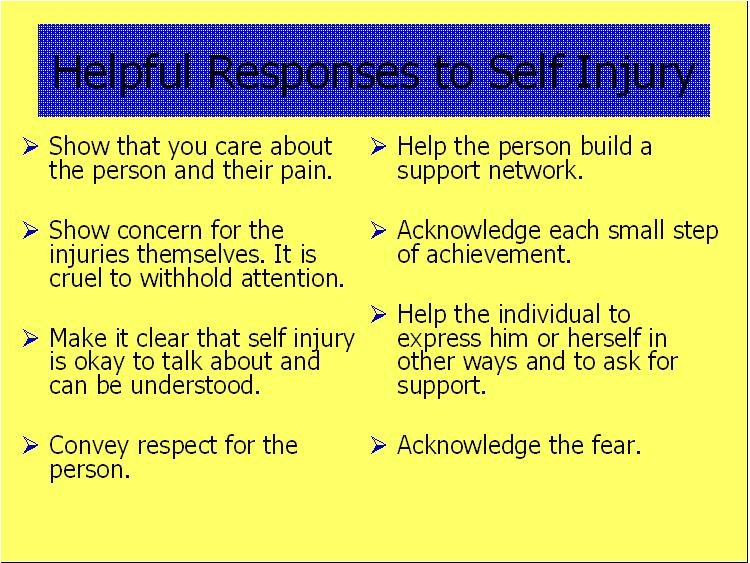 Peer-Reviewed Journal Article References:
Adrian, M., Berk, M. S., Korslund, K., Whitlock, K., McCauley, E., & Linehan, M. (2018). Parental validation and invalidation predict adolescent self-harm. Professional Psychology: Research and Practice, 49(4), 274–281.

Andover, M. S., Schatten, H. T., Holman, C. S., & Miller, I. W. (2020). Moderators of treatment response to an intervention for nonsuicidal self-injury in young adults. Journal of Consulting and Clinical Psychology. Advance online publication.

Ammerman, B. A., Jacobucci, R., Turner, B. J., Dixon-Gordon, K. L., & McCloskey, M. S. (2020). Quantifying the importance of lifetime frequency versus number of methods in conceptualizing nonsuicidal self-injury severity. Psychology of Violence, 10(4), 442–451.
Fu, K.-w., Cheng, Q., Wong, P. W. C., & Yip, P. S. F. (2013). Responses to a self-presented suicide attempt in social media: A social network analysis. Crisis: The Journal of Crisis Intervention and Suicide Prevention, 34(6), 406–412.

Glenn, J. J., Werntz, A. J., Slama, S. J. K., Steinman, S. A., Teachman, B. A., & Nock, M. K. (2017). Suicide and self-injury-related implicit cognition: A large-scale examination and replication. Journal of Abnormal Psychology, 126(2), 199–211.

Welch, S. S., Linehan, M. M., Sylvers, P., Chittams, J., & Rizvi, S. L. (2008). Emotional responses to self-injury imagery among adults with borderline personality disorder. Journal of Consulting and Clinical Psychology, 76(1), 45–51.

Online Continuing Education QUESTION 7
What is one result of withholding attention from the self injurer? To select and enter your answer go to