On the last track, we discussed four methods of implementing Identification and Projection in Gestalt therapy. These four methods were: identifying with an object, identifying with a person, identifying with a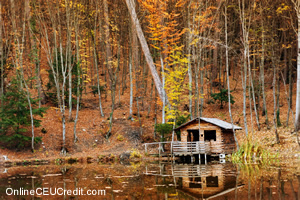 part of the self, and identifying with a nonverbal behavior.
On this track, we will discuss three Gestalt techniques for implementing fantasy situations to increase a client's awareness. The three techniques are, the introductory scene, the Stump-Cabin-Stream technique, and the positive withdrawal.
Three Techniques for Implementing Fantasy Situations


Technique #1 - Introductory Scenes
The first technique I find useful for implementing fantasy situations with clients is the Introductory Scene. As you are well aware, if a client has not done fantasy or visualization work before, starting with a pleasant and familiar scene can help the client reduce apprehension about the new technique.

Remember Daniel, from the last track? When I introduced the concept of fantasy visualizations to Daniel, he was very skeptical. I stated to Daniel, "by setting up a scene like this, we can both see you in action. Because you are "doing" something and are involved in it, we can check and see how you are feeling at various times during the action."
Daniel asked, "why do that instead of just talking about what I've done?" I replied, "One of the advantages to doing it this way is that you might forget about the usually way in which you think about what you do. You might find yourself saying or feeling things that seem strange to you. Often, these things that come out spontaneously can lead to learning something new about yourself."
Once Daniel felt he understood the method, I asked him to imagine himself doing an activity he really enjoyed. Daniel decided to imagine himself at a basketball game with his best friend. To give Daniel an example of how to begin, I modeled the start of a scene for him. I stated, "One of my favorite things to do is go hiking in the woods. So my scene starts like, 'here I am at the start of the trail. The sun is shining, and I can feel a cool breeze on my cheek. I can smell the pine trees and hear cicadas buzzing…'"


Technique #2 - Stump-Cabin-Stream
The second technique I find useful in implementing fantasy situations is the Stump-Cabin-Stream technique, which was written by John O. Stevens. I find this a useful technique, as there are several parts into which the client can project. This allows for several dimensions of the client to emerge, reflecting a broad range of feelings, self-perceptions, and needs.
-- 1. First, imagine that you are a tree stump in the mountains… Visualize yourself and your surroundings… Take some time to describe what you look like… What is your existence like as a tree stump? What kinds of things happen to you?
-- 2. Near this stump, there is a cabin. Now, I'd like you to become the cabin… Again, try to get the experience of being this cabin… What are you like? What do you have inside you? Take some time to experience being the cabin…
-- 3. Near the cabin, there is a stream. I'd like you now to become the stream. What kind of stream are you? What are your surroundings like? How do you feel as a stream? What kind of experiences do you have?
-- 4. As this stream, I would like you to talk to the cabin. What do you say to the cabin? Talk to the cabin and imagine that the cabin answers back, so that you have a conversation… Now become the cabin again and continue the conversation. What do you have to say to the stream? Continue this dialogue for a while…
-- 5. Now say goodbye to the mountains… Say goodbye to the cabin, the stream, and the stump…Come back here to this room and your existence here… Open your eyes when you are ready…
Clearly, this technique can be extended by also having dialogues between the stump and the stream, or the stump and the cabin. When I implemented this technique with Daniel, he stated, "I don't like being the stump. I'm short, and most of me has been cut off. The other trees are tall and pretty." After hearing Daniel's description, I concluded that part of Daniel is judging himself, and comparing himself to others – the "tall and pretty trees".
By describing himself as "short" as the stump, I felt that Daniel was indicating that he felt that he came up short as compared to his peers. Would you agree? Would your Daniel benefit from trying the Stump-Cabin-Stream technique?


Technique #3 - Positive Withdrawal
In addition to the introductory scene and the Stump-Cabin-Stream technique, a third Gestalt technique for implementing fantasy situations to increase a client's awareness is the positive withdrawal. I stated to Daniel, "In positive withdrawal, a person goes to a place where all his or her wants and needs are satisfied. This allows the person to recharge personal strengths, and allows a break from situations that are unpleasant or threatening." Daniel stated, "But isn't that just avoiding a situation?"
I replied, "It is true that avoidance and withdrawal are similar. Both avoidance and withdrawal shift awareness and contact away from what is happening at the moment. However, avoidance is getting away from, with no clear place to go. Avoidance may not result in going someplace energizing and comfortable. Positive withdrawal, on the other hand, is both getting away from and creating a place to go. Positive withdrawal also aims to return to the present uncomfortable situation and deal with it more effectively. The purpose of positive withdrawal is to make contact with feelings of security, strength, and competence, so that you feel more able to deal with the situation at hand. Where is a place that is very safe and special to you, where everything is the way you want it?"
Daniel indicated that his grandmother's kitchen was the place he had always felt the most loved. After guiding Daniel through a brief visualization of his grandmother's kitchen, I indicated that he might try using this technique throughout each day, as he started to feel overwhelmed by his tendency to compare himself unfavorably to others.
Think of your Daniel. Would training your Daniel in positive withdrawal help him or her cope more effectively with daily stressors?
On this track, we have discussed three techniques for implementing fantasy situations to increase a client's awareness. The three techniques are, the introductory scene, the Stump-Cabin-Stream technique, and the positive withdrawal.

On the next track, we will discuss two orienting points of implementing Dialogues in Gestalt therapy. These two orienting points are the client plays both parts, and using two chairs. We will also discuss the Puppeteer Technique.
Online Continuing Education QUESTION 8
What are three techniques for implementing fantasy situations to increase a client's awareness? To select and enter your answer go to .