The FREE video below is a section of a seminar lecture given by an instructor.



Below are the PowerPoints that accompany the instructor's lecture for this track.
found at the bottom of this page.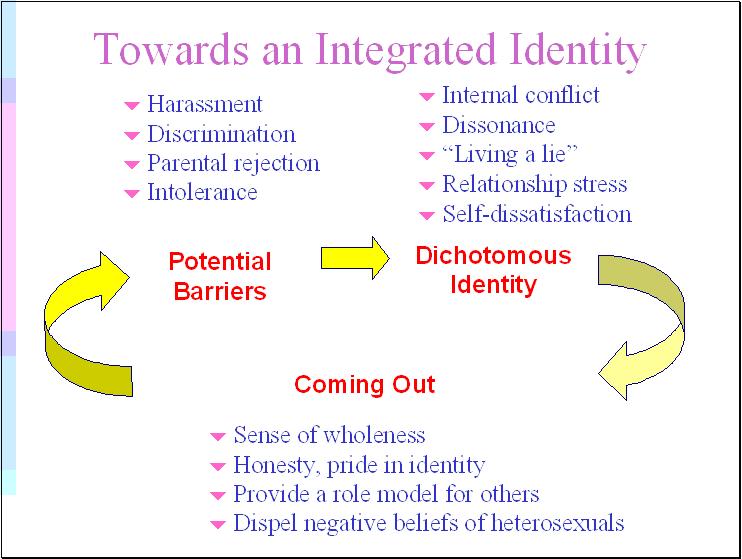 Peer-Reviewed Journal Article References:
Bettergarcia, J. N., & Israel, T. (2018). Therapist reactions to transgender identity exploration: Effects on the therapeutic relationship in an analogue study. Psychology of Sexual Orientation and Gender Diversity, 5(4), 423–431.

Bishop, M. D., Fish, J. N., Hammack, P. L., & Russell, S. T. (2020). Sexual identity development milestones in three generations of sexual minority people: A national probability sample. Developmental Psychology.

Galliher, R. V., Rivas-Drake, D., & Dubow, E. F. (2017). Identity development process and content: Toward an integrated and contextualized science of identity. Developmental Psychology, 53(11), 2009–2010.

Henderson, M. M., Simon, K. A., & Henicheck, J. (2018). The relationship between sexuality–professional identity integration and leadership in the workplace. Psychology of Sexual Orientation and Gender Diversity, 5(3), 338–351.

Mohr, J. J., Fuertes, J. N., & Stracuzzi, T. I. (2015). Transference and insight in psychotherapy with gay and bisexual male clients: The role of sexual orientation identity integration. Psychotherapy, 52(1), 119–126.

Online Continuing Education QUESTION 12
What are three factors a LGBTQ client might face on the path toward an integrated identity? To select and enter your answer go to .