The FREE video below is a section of a seminar lecture given by an instructor.



Below are the PowerPoints that accompany the instructor's lecture for this track.
found at the bottom of this page.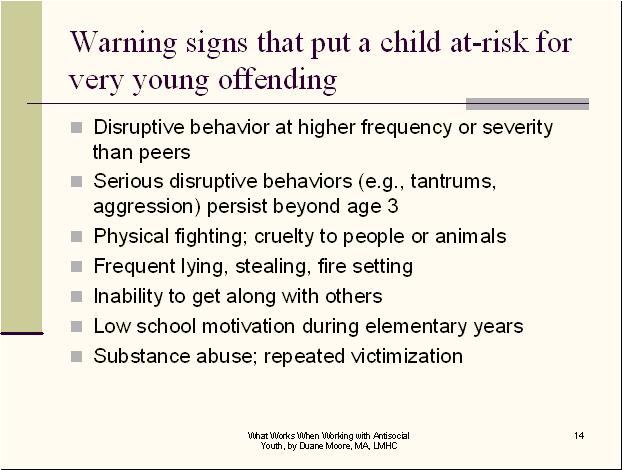 Peer-Reviewed Journal Article References:
Helseth, S. A., Escobar, K. I., Clark, M. A., Spirito, A., & Becker, S. J. (2020). Marketing therapy to parents concerned about adolescent substance use: Association of adolescent problems and parent preferences for direct-to-consumer marketing. Professional Psychology: Research and Practice, 51(1), 68–76.

Karavalaki, M., & Shumaker, D. (2016). An existential–integrative (ei) treatment of adolescent substance abuse. The Humanistic Psychologist, 44(4), 381–399.

Oldenhof, H., Jansen, L., Ackermann, K., Baker, R., Batchelor, M., Baumann, S., Bernhard, A., Clanton, R., Dochnal, R., Fehlbaum, L. V., Fernandez-Rivas, A., Goergen, S., Gonzalez de Artaza-Lavesa, M., Gonzalez-Madruga, K., Gonzalez-Torres, M. A., Gundlach, M., Lotte van der Hoeven, M., Kalogerakis, Z., Kapornai, K., . . . Popma, A. (2020). Psychophysiological responses to sadness in girls and boys with conduct disorder. Journal of Abnormal Psychology.

Olschewski, S., Rieskamp, J., & Scheibehenne, B. (2018). Taxing cognitive capacities reduces choice consistency rather than preference: A model-based test. Journal of Experimental Psychology: General, 147(4), 462–484

Santisteban, D. A., Mena, M. P., Muir, J., McCabe, B. E., Abalo, C., & Cummings, A. M. (2015). The efficacy of two adolescent substance abuse treatments and the impact of comorbid depression: Results of a small randomized controlled trial. Psychiatric Rehabilitation Journal, 38(1), 55–64.

Stanger, C., Ryan, S. R., Fu, H., Landes, R. D., Jones, B. A., Bickel, W. K., & Budney, A. J. (2012). Delay discounting predicts adolescent substance abuse treatment outcome. Experimental and Clinical Psychopharmacology, 20(3), 205–212.

Online Continuing Education QUESTION 5
What is a predictor for substance abuse in adolescents? To select and enter your answer go to .