The video below is to a section of a seminar lecture given by an instructor.



Below are the PowerPoints that accompany the instructor's lecture for this track.
found at the bottom of this page.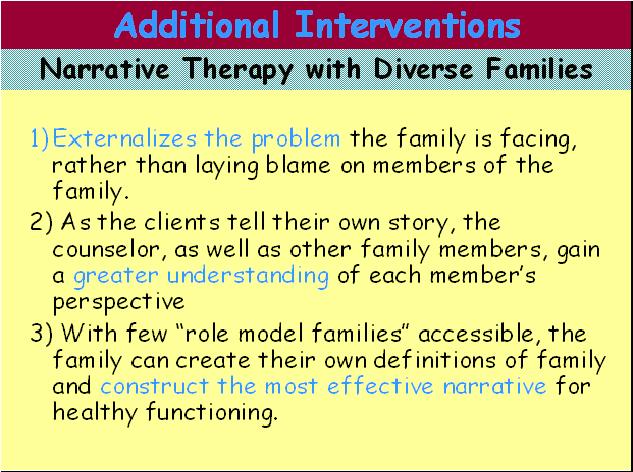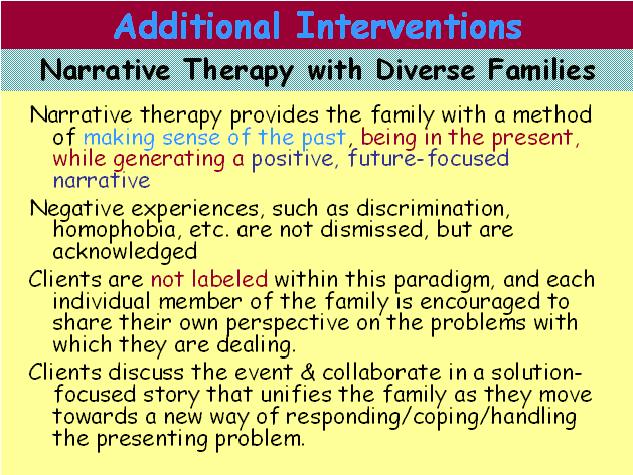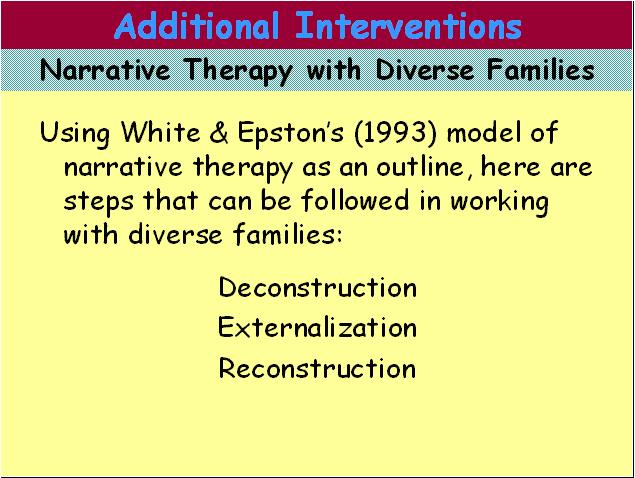 Peer-Reviewed Journal Article References:
Bartolucci, M., & Batini, F. (2019). The effect of a narrative intervention program for people living with dementia. Psychology & Neuroscience, 12(2), 307–316.

Bojanowski, S., Gotti, E. G., Wanowski, N., Nisslein, J., & Lehmkuhl, U. (2020). Sibling relationships of children and adolescents with mental disorders–Resource or risk factor? Journal of Family Psychology.

Campos, B., & Kim, H. S. (2017). Incorporating the cultural diversity of family and close relationships into the study of health. American Psychologist, 72(6), 543–554.

Martin Romero, M. Y., Gonzalez, L. M., Stein, G. L., Alvarado, S., Kiang, L., & Coard, S. I. (2021). Coping (together) with hate: Strategies used by Mexican-origin families in response to racial–ethnic discrimination. Journal of Family Psychology.

Rolbiecki, A., Anderson, K., Teti, M., & Albright, D. L. (2016). "Waiting for the cold to end": Using photovoice as a narrative intervention for survivors of sexual assault. Traumatology, 22(4), 242–248.

QUESTION 14
In White and Epston's Model for Narrative Therapy, what does the Externalization stage consist of? To select and enter your answer go to .