The video below is to a section of a seminar lecture given by an instructor.



Below are the PowerPoints that accompany the instructor's lecture for this track.
found at the bottom of this page.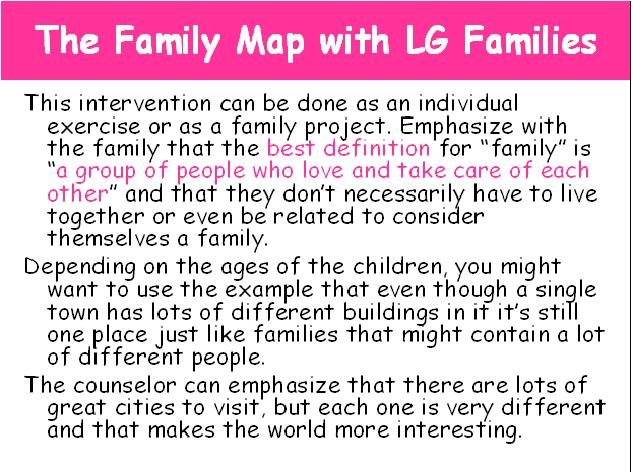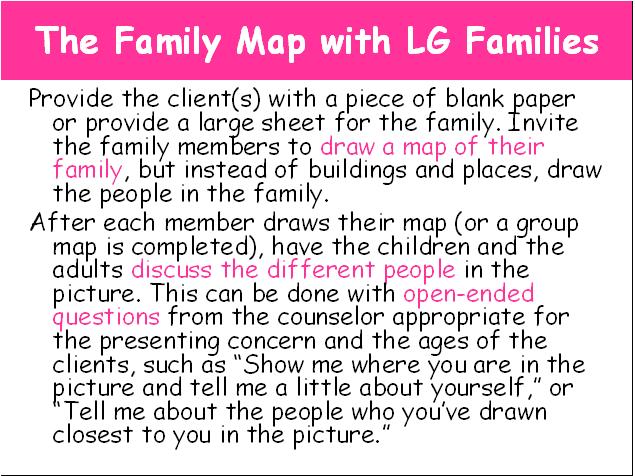 Peer-Reviewed Journal Article References:
Chee, C. L., Shorty, G., & Robinson Kurpius, S. E. (2019). Academic stress of Native American undergraduates: The role of ethnic identity, cultural congruity, and self-beliefs. Journal of Diversity in Higher Education, 12(1), 65–73.

Farr, R. H., Bruun, S. T., & Patterson, C. J. (2019). Longitudinal associations between coparenting and child adjustment among lesbian, gay, and heterosexual adoptive parent families. Developmental Psychology, 55(12), 2547–2560.

Patterson, C. J., Tate, D. P., Sumontha, J., & Xu, R. (2018). Sleep difficulties among sexual minority adults: Associations with family relationship problems. Psychology of Sexual Orientation and Gender Diversity, 5(1), 109–116.

Preston, K. S. J., Gottfried, A. W., Oliver, P. H., Gottfried, A. E., Delany, D. E., & Ibrahim, S. M. (2016). Positive family relationships: Longitudinal network of relations. Journal of Family Psychology, 30(7), 875–885.

QUESTION 6
In the Family Map exercise, what can the therapist learn by asking the child about the picture they drew? To select and enter your answer go to .