The video below is to a section of a seminar lecture given by an instructor.



Below are the PowerPoints that accompany the instructor's lecture for this track.
found at the bottom of this page.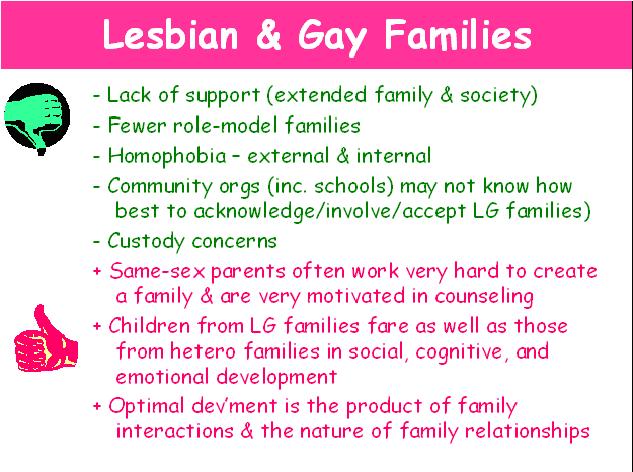 Peer-Reviewed Journal Article References:
Farr, R. H., Bruun, S. T., & Patterson, C. J. (2019). Longitudinal associations between coparenting and child adjustment among lesbian, gay, and heterosexual adoptive parent families. Developmental Psychology, 55(12), 2547–2560.

Farr, R. H., Bruun, S. T., & Simon, K. A. (2019). Family conflict observations and outcomes among adopted school-age children with lesbian, gay, and heterosexual parents. Journal of Family Psychology, 33(8), 965–974.

Mark, K. P., Toland, M. D., Rosenkrantz, D. E., Brown, H. M., & Hong, S.-h. (2018). Validation of the Sexual Desire Inventory for lesbian, gay, bisexual, trans, and queer adults. Psychology of Sexual Orientation and Gender Diversity, 5(1), 122–128.

QUESTION 5
How do lesbian and gay families in the media help families in the community feel validated?To select and enter your answer go to ..