The last basic group we're talking about is working with families with special needs members and this incorporates developmental delays, physical illness, mental retardation, just a host of children who are different and what that's like for families who have a special needs member in the family. Criminal and familial reactions to the birth of a child who has special needs is usually colored by the expectations the family had for that child. During the nine months of pregnancy, women, men, parents, all start thinking about who this child will be, what will this child will be like, maybe success in society, professional role, my little doctors, moms carrying my little doctor, my little baseball player, my little musical prodigy, my little brilliant scientist, whatever it may be that we all have this expectations and when the child is born and the diagnosis is made, there's a really huge sense of loss and grief and their grieving for the child that won't be, the fantasy child. It can be really hard for parents to sometimes accept the fact that their child won't be those things they fantasized to be.
And the discrepancy between fantasy and reality is really hard for some parents to accept. Sometimes with first-born children, it can be especially traumatic or if there are several other children already in the family who are happy, perfect children, having a child at school that has special needs can really throw people for a loop.
And so loss and grief are the first two big kind of emotions that parents might have to cope with and grief is very hard work. Also, these can be reactivated throughout the life cycle, family life cycle, when your child is turning five and should be getting on the school bus for the first time and your child can't go to school for some reason or the child is to ill to go. Turning sixteen, major milestone, the whole driving thing, graduation from high school, should be going to college. All these 'my child should be doing this' and he or she is not can reactivate that sense of loss throughout the life and so you should be aware that if a family comes to you and maybe the child is sixteen or seventeen years old and they're just now seeking counseling for what they don't know, they're unhappy, they're mad, a lot of anger, it may be anger that's hiding with grief and a sense of loss that when their child should be becoming independent and moving away from home, and the child is not, they may realize that this might be who we are for the next fifty years or whatever it may be. That sense of loss is reactivated during milestone events.
Below are the PowerPoints that accompany the instructor's lecture for this track.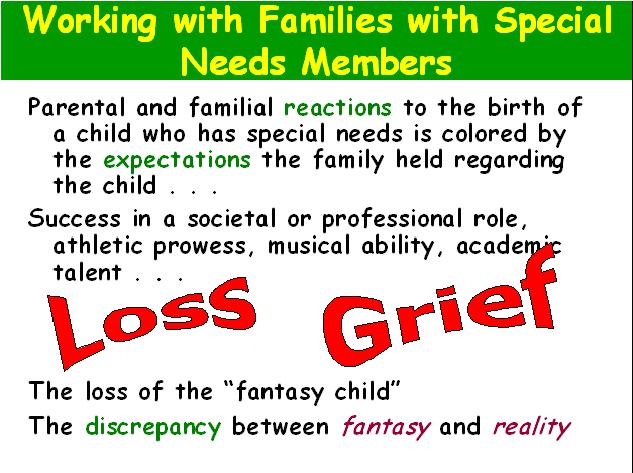 - Degges-White, S. (2008). Working with Culturally Diverse Families. Lecture presented at the Indiana Counseling Association Annual Conference.

Peer-Reviewed Journal Article References:
Buyukcan-Tetik, A., Finkenauer, C., Schut, H., Stroebe, M., & Stroebe, W. (2017). The impact of bereaved parents' perceived grief similarity on relationship satisfaction. Journal of Family Psychology, 31(4), 409–419.

Campos, B., & Kim, H. S. (2017). Incorporating the cultural diversity of family and close relationships into the study of health. American Psychologist, 72(6), 543–554.

Johnson, H. L., & DeLeon, P. H. (2016). Accessing care for children with special health care needs. Practice Innovations, 1(2), 105–116.
Online Continuing Education QUESTION 10
Regarding cultural diversity created by a mental or physical handicap, what is a reason that parents often experience grief when a child is born with special needs? To select and enter your answer go to .