These are some bibliotherapy items for multiethnic families and children. Some are for adults. The color of water is an excellent one for all counselors to read, it really gets inside the head of someone who's growing up multiethnic. Raising black and biracial kids, this is something to encourage parents to read to help them kind of understand that it's okay to be so different.
A few websites, unfortunately there aren't that many websites. These are some of the biggest ones. http://www.bfnchicago.org/ it is a national organization that's headquartered here in Chicago, it's a support group and does offer meetings for people, for families and individuals, who are in multiracial relationships.
http://www.ameasite.org/bfn.asp/ is another one, it's a national organization for multiethnic people and http://racerelations.about.com/od/biracialresources/ lots of multiethnic literature, educational materials that can be used for yourselves, for your clients, it's a great site. Again, they are not easy to find so if you're working with these families, it's good to have them on hand.
How would you go about asking how they would describe themselves? If you had to describe your family, how would you describe it? Tell me about your family. How do you see yourselves? How do you like others to refer to your family?
Below are the PowerPoints that accompany the instructor's lecture for this track.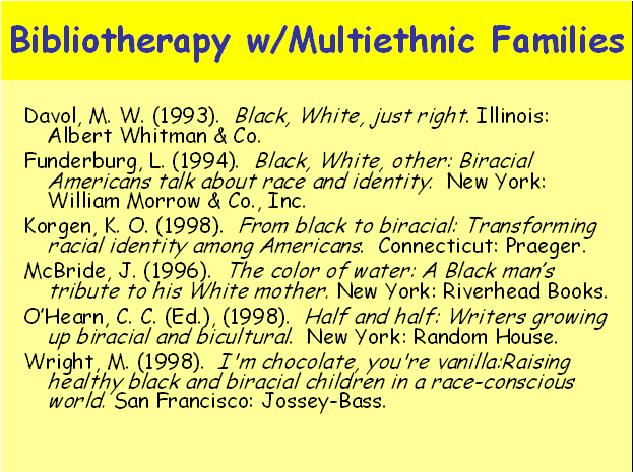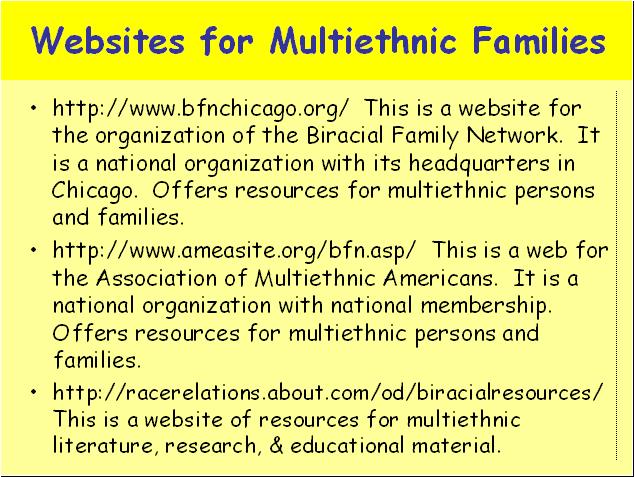 - Degges-White, S. (2008). Working with Culturally Diverse Families. Lecture presented at the Indiana Counseling Association Annual Conference.

Peer-Reviewed Journal Article References:
Kivlighan, D. M. III, Hooley, I. W., Bruno, M. G., Ethington, L. L., Keeton, P. M., & Schreier, B. A. (2019). Examining therapist effects in relation to clients' race-ethnicity and gender: An intersectionality approach. Journal of Counseling Psychology, 66(1), 122–129.

Nadal, K. L., Davidoff, K. C., Davis, L. S., Wong, Y., Marshall, D., & McKenzie, V. (2015). A qualitative approach to intersectional microaggressions: Understanding influences of race, ethnicity, gender, sexuality, and religion. Qualitative Psychology, 2(2), 147–163.

Price, G. C., Jansen, K. L., & Weick, M. R. (2020). Let's talk about sex: Ethical considerations in survey research with minority populations. Translational Issues in Psychological Science, 6(3), 214–222.
Online Continuing Education QUESTION 9
What are four ways that you can ask a client about their racial background, ethnic background, or sexual orientation to provide more tailored treatment? To select and enter your answer go to .