One of the interventions that might work with the lesbian and gay families is called "The Family Map" and it's main focus is on the best definition for family, "a group of people who love and take care of each other" and that's a very simple definition if you are working with kids who are being treated poorly because their families are different, if you are working with parents who feel that their families or the community has made them feel different that they are not good enough parents or they're not a real family. It's a nice way to kind of create this activity where the family can create a map of themselves. And the thing on the ages for kids, you might want to use the example that even though a single town has lots of different buildings, it's still one place. It's still one place just like families contain a lot of different people, whether its two mothers, two fathers, eight grandparents, whatever it might be, it's their family and it's an okay family.
The counselor can emphasize there are a lot of great cities to visit, but each one's very different and kind of use that analogy that it's okay to be different from the other places. To go to Chicago to get excitement, you come here to Portage or Chesterton for nice laid back suburban areas that can be close by but they don't have to be the same, the variety is really appreciated.
It can be an individual group activity and you give the client family and piece of paper and you tell them to draw a map of your family and include the people that matter to you. And right here like this tourist map where this is all Sedona, Arizona, but there are different parts of it so you know different buildings, if you are doing New York City, you can create the map and ask the kids or the family to write down where do people belong, draw the picture of people in your family. And after each member draws their map and the group map is completed, have the children and adults discuss the different people in the picture. You can ask open-ended questions. "Holly where are you in the map? Who is closest to you? Tell me why you put your two moms closest to you and your dad over here on this side." You can ask questions to help them kind of talk about how they see their family and when you invite a child to do that, with the parents present, it can be really enlightening for the parents and sometimes it can make them feel better that they are doing an okay job with the kids or it can raise some red flags with the parents if they realize the child has got some issues going on with one of the step parents. So it's a nice way to visualize each family because trying to talk to some kids about what really intense, complicated relationships, for example, "Do you love your mother?" What's Rose going to say? "Yes I do she's here in the room." "Do you love your father?" "I can't say out loud because Mom will be upset." So if you get them away to kind of draw their own map of their family, they can visually illustrate how they feel about those family members.
Below are the PowerPoints that accompany the instructor's lecture for this track.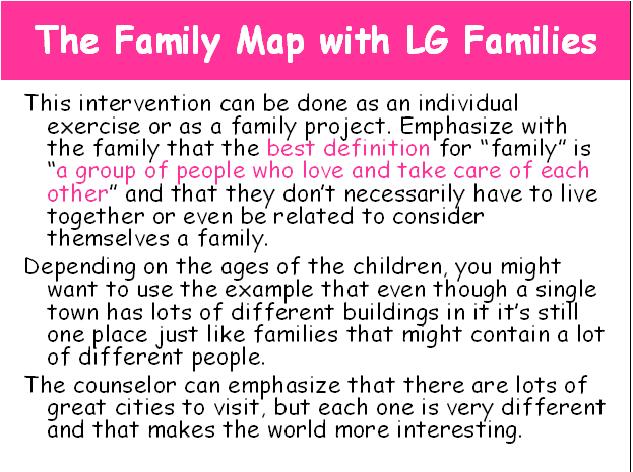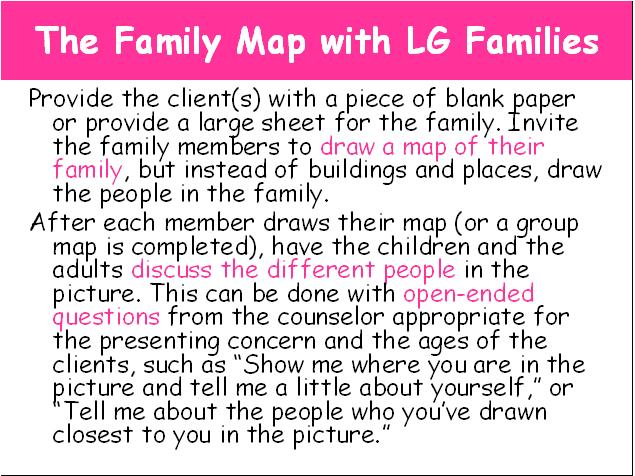 - Degges-White, S. (2008). Working with Culturally Diverse Families. Lecture presented at the Indiana Counseling Association Annual Conference.

Peer-Reviewed Journal Article References:
Chee, C. L., Shorty, G., & Robinson Kurpius, S. E. (2019). Academic stress of Native American undergraduates: The role of ethnic identity, cultural congruity, and self-beliefs. Journal of Diversity in Higher Education, 12(1), 65–73.

Farr, R. H., Bruun, S. T., & Patterson, C. J. (2019). Longitudinal associations between coparenting and child adjustment among lesbian, gay, and heterosexual adoptive parent families. Developmental Psychology, 55(12), 2547–2560.

Patterson, C. J., Tate, D. P., Sumontha, J., & Xu, R. (2018). Sleep difficulties among sexual minority adults: Associations with family relationship problems. Psychology of Sexual Orientation and Gender Diversity, 5(1), 109–116.

Preston, K. S. J., Gottfried, A. W., Oliver, P. H., Gottfried, A. E., Delany, D. E., & Ibrahim, S. M. (2016). Positive family relationships: Longitudinal network of relations. Journal of Family Psychology, 30(7), 875–885.

Online Continuing Education QUESTION 6
In the Family Map exercise, what can the therapist learn by asking the child about the picture they drew? To select and enter your answer go to .