Switching topics now, we are going to go to the first family group that we are going to look at, lesbian and gay families, and some of the negatives for lesbian and gay families is a lack of support. Extended families sometimes turn on the families, they don't accept people, and society sometimes, as Jason mentioned especially when you're working in school systems or working with children, there are still a lot of places that have a lot of prejudice and homophobia against people.
Fewer role-model families but that is changing now. So when there's things happening in the media, it can really help families kind of connect in that maybe were not suited.
Homophobia both externally and internal homophobia. Internalized homophobia can be sometimes harder to deal with for lesbian and gay people than external homophobia because they feel so uncomfortable being different and with their gender preference.
Community organizations, including schools, may not know how best to acknowledge, involve, or accept lesbian or gay families, and there was a recent article about a colloquial school that was not going to allow a Kindergartener admission because he had gay parents, but these people were fine outstanding men, very prominent in the business world, their child would be discriminated against because of his parents. So something to think about what these families are facing in these little different places, different pockets of their lives.
And custody concerns. If someone comes out after having a heterosexual marriage, there can be ugly court battles as one of the parents tries to get visitation and custody of the children.
So a lot of things come into play with these families. Some of the positives are same sex parents often work very hard to create a family. They are very motivated in counseling on whether it's on adoption, donor intimidation, or custody battles, sometimes they work very hard and family has a lot of importance in their life and they're willing to do the work to get to a better place in their lives.
Studies show children from gay or lesbian families fare as well as those from hetero families in social, cognitive, and emotion development and some studies show that kids from LG families can be more egalitarian and more willing to put forth effort, that there's more of a sense of sharing in the communal task in the family.
And optimal development is the product of family interactions and the nature of family relationships. This is true for all families we may work with, no matter how different they are, recognizing that it's the interactions this family has and the nature of their relationship that influence how a child will develop. Something that you might want to encourage some families if you are working with families that are different and you know it doesn't matter what's going on outside, it's what's going on with them, the group that makes a difference in children development.
Also religious groups might not be so welcoming to lesbian and gay families and so they might not be able to find their spiritual support that they're looking for, unless they go to a church that's dedicated to lesbians and gays.
Below are the PowerPoints that accompany the instructor's lecture for this track.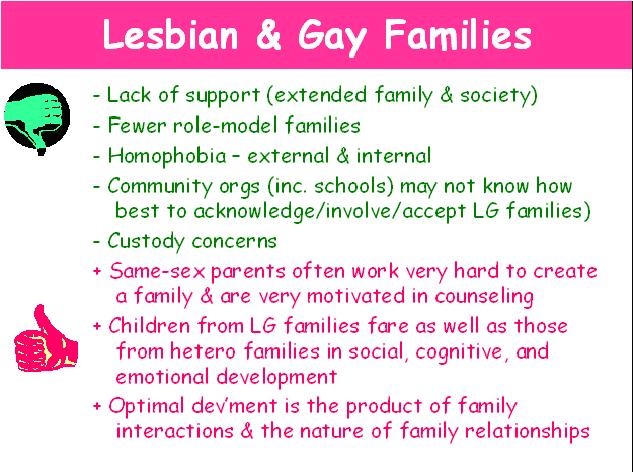 - Degges-White, S. (2008). Working with Culturally Diverse Families. Lecture presented at the Indiana Counseling Association Annual Conference.

Peer-Reviewed Journal Article References:
Farr, R. H., Bruun, S. T., & Patterson, C. J. (2019). Longitudinal associations between coparenting and child adjustment among lesbian, gay, and heterosexual adoptive parent families. Developmental Psychology, 55(12), 2547–2560.

Farr, R. H., Bruun, S. T., & Simon, K. A. (2019). Family conflict observations and outcomes among adopted school-age children with lesbian, gay, and heterosexual parents. Journal of Family Psychology, 33(8), 965–974.

Mark, K. P., Toland, M. D., Rosenkrantz, D. E., Brown, H. M., & Hong, S.-h. (2018). Validation of the Sexual Desire Inventory for lesbian, gay, bisexual, trans, and queer adults. Psychology of Sexual Orientation and Gender Diversity, 5(1), 122–128.
Online Continuing Education QUESTION 5
How do lesbian and gay families in the media help families in the community feel validated?To select and enter your answer go to .