Be an advocate and teach your families that they are advocates for each other and for themselves too. It's really important in a lot of families if there are not a lot of role models out there, help families learn to advocate for themselves. Help families break the isolation and gain social support. If you were a family were one of the children suffered from something that the extended family turned away from or if you were different, if you were two moms or two dads, what would that be like for you? Jason, if you had the same sex partner, what would that feel like in your family today, where you work?
Jason, "How would my family feel about that?"
Suzanne, "Yeah, how would your family feel or how would the people you work with at school feel?"
Jason, "Well my dad is kind of old-school so I think it would be kind of different for him but my mom I think would be okay with it."
Suzanne, "Your dad would have a harder time?"
Jason, "Yeah, so."
Suzanne, "What about where you work and the school system?"
Jason, "I don't know, it's kind of weird. A lot of people in our school kind of walk on egg shells about homosexuality and things like that. You know, I am not sure how they would."
Suzanne, "So it might be different or it might not be different. You would kinda have to try it out and see what happens." "Holly, what about if you brought home a man of another race, how would it be for your parents? Would they be okay with that?"
Holly, "Actually they would be. But it would take a while but then they would just be used to it."
Suzanne, "Then they would get used to it."
Holly, "Yeah they are kind of like on the surface people at first and then after a while, they start letting things pass. They start paying attention to personality."
Suzanne, "But at first it would be kind of abrupt."
Holly, "Yeah."
Suzanne, "Holly, we need to talk"
Holly, "Yeah, they are overly traditional for a lot of things."
Suzanne, "There are a lot of overly traditional people on this world and a lot of the generation now is not so traditional and can cause a lot of clashes." "Rose, do you have any experience with doing something different, stepping outside family expectations."
Rose, "Yes but always very accepting of different cultures. I remember saying look at that other couple and think wouldn't I get in trouble for that. So I think my parents were very accepting."
Suzanne, "Very accepting so you would have support."
So they're different, when working with you as families, we might have very different issues with the interview to help you gain that social support. It might be easier for some of you, it might be harder for some of you. Jason said there are egg shells at your school regarding homosexuality. So there might be three other men there who have partners at home but because of the climate, you don't feel that you could even get to know them so that sense of isolation. So to help families realize that even though they are different, that you accept them. Unconditional, positive regard is really key to that, when families come to you let them know that whoever you are, you're a family and that's okay. Goes back to those four conditions of counseling that's really important.
Below are the PowerPoints that accompany the instructor's lecture for this track.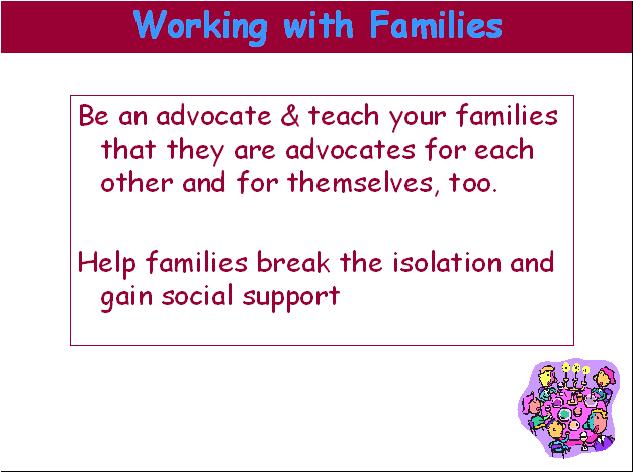 - Degges-White, S. (2008). Working with Culturally Diverse Families. Lecture presented at the Indiana Counseling Association Annual Conference.

Peer-Reviewed Journal Article References:
Chopra, S. B. (2021). Healing from internalized racism for Asian Americans. Professional Psychology: Research and Practice. Advance online publication

Desai, M. U., Paranamana, N., Restrepo-Toro, M., O'Connell, M., Davidson, L., & Stanhope, V. (2020). Implicit organizational bias: Mental health treatment culture and norms as barriers to engaging with diversity. American Psychologist. Advance online publication.

Farber, B. A., Suzuki, J. Y., & Lynch, D. A. (2018). Positive regard and psychotherapy outcome: A meta-analytic review. Psychotherapy, 55(4), 411–423.

Shepherd, S. M., & Lewis-Fernandez, R. (2016). Forensic risk assessment and cultural diversity: Contemporary challenges and future directions. Psychology, Public Policy, and Law, 22(4), 427–438.

Taylor, D. M., & Kachanoff, F. J. (2015). Managing cultural diversity without a clearly defined cultural identity: The ultimate challenge. Peace and Conflict: Journal of Peace Psychology, 21(4), 546–559.

Online Continuing Education QUESTION 4
What are two examples of unconditional positive regard statements regarding cultural diversity? To select and enter your answer go to .