There is no single American culture in the room. Race is all blended, ethnicity, ability, socio-economic standing, sexual orientation, gender, national or regional origin, age, these are all factors that play into the melting pot. We can't just say Caucasians are all this way, African Americans are all this way, men are all this way, women are all that way because there is a lot of difference, a lot of blending together. So no family is going to be all Mom, Dad, who was Sally and Dick and Scott and Fluffy from all those years ago.
Age, kind of like blurs now, as people enter and exit relationships more often and age ranges, you can find families where one child is 62 and one child is 12. A whole variety of what you see, so these are all kind of blending together. So when we think of family, we really need to expand our idea of what family looks like.
Even among groups, the individual members are different and always remember that when you are working with clients don't assume that because Mitchell is 17, we can assume him to be like all other 17 year olds or all other teenage boys.
Everyone in the family can be very different and counselors must allow themselves to be learners. You have to assume you are going to learn as much from the family as coming to you as they will learn from you. It's a chance for you to broaden your own idea of what family is. And let families define themselves for you, you don't assume you have to have extended family. Well maybe it's just extended family of a family of choice versus family you love.
Every family has its own reality. And that's really important to remember that just because this is the way your family does it, doesn't mean that's the way every family's going to do it. Whether its celebrations, religious beliefs. And don't make assumptions based on one characteristic because we are very much likely to be wrong. Don't just say just because they look a certain way or they check a certain box on the intake form, that they are going to be a certain way.
Keep your mind open. When you work with families who are different, basic skills are the key to success, is one of the ways we talk about this so often in counselor training programs. Empathy, support, these things are really key to establishing the bond that's going to help you work with that family.
Building the relationship requires listening carefully and showing interest. Listen to the families talk as they tell you about their rituals and their beliefs, really listen to them. Step inside of their shoes, use your powers of empathy to understand what their life is like.
Communication skills are really important. Having a wide variety of techniques. Different cultures respond differently to different techniques. Open questions, closed questions, paraphrasing, it's really important to understand the who. Find out what works. Pay attention to non-verbals to see how people are responding to you. Read up on different ethnicities, different gender orientations, whatever it may be. Do as much reading as you need to get to feel comfortable working with someone who is different. Learn from the family then do your own work. Learn from the books, the literature, colleagues, supervisors.
Below are the PowerPoints that accompany the instructor's lecture for this track.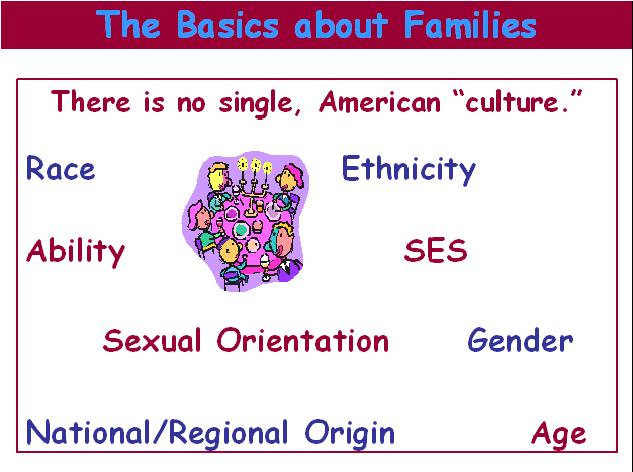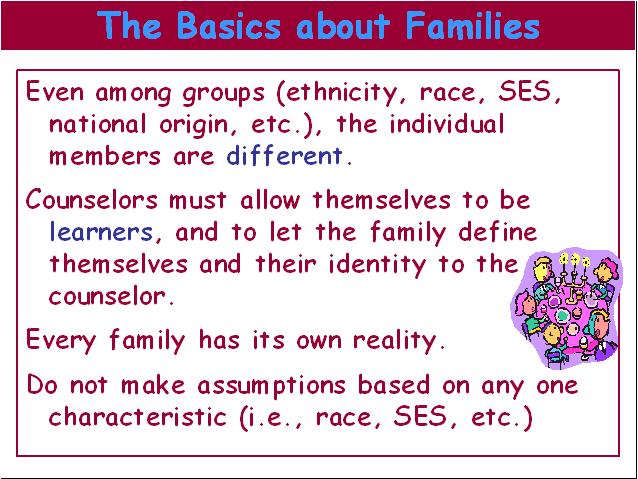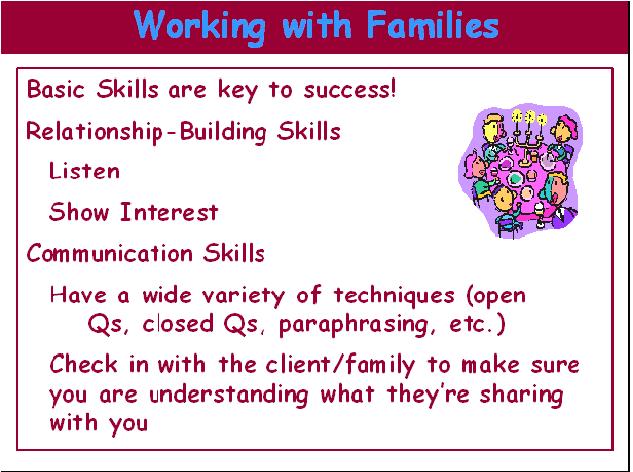 - Degges-White, S. (2008). Working with Culturally Diverse Families. Lecture presented at the Indiana Counseling Association Annual Conference.

Peer-Reviewed Journal Article References:
Campos, B., & Kim, H. S. (2017). Incorporating the cultural diversity of family and close relationships into the study of health. American Psychologist, 72(6), 543–554.

Franco, M., & McElroy-Heltzel, S. (2019). Let me choose: Primary caregiver cultural humility, racial identity, and mental health for multiracial people. Journal of Counseling Psychology, 66(3), 269–279

Lawson, K. M., Sun, X., & McHale, S. M. (2019). Family-friendly for her, longer hours for him: Actor-partner model linking work-family environment to work-family interference. Journal of Family Psychology, 33(4), 444–452.

Weinstein, D. (2018). Sexuality, therapeutic culture, and family ties in the United States after 1973. History of Psychology, 21(3), 273–289.
Online Continuing Education QUESTION 2
According to the speaker, regarding cultural diversity, how does "every family have its own reality?" To select and enter your answer go to .